Tax penalties of £1,200 sent out by HMRC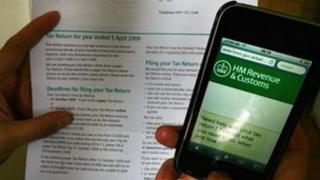 About 500,000 people are being sent notices of penalties of at least £1,200 for failing to submit their self-assessment tax returns.
The HM Revenue and Customs (HMRC) penalty is made up of £900 in daily fines alongside a late-filing penalty of £300 or 5% of the tax due.
Some penalties might be waived on proof of a reasonable excuse, such as a family illness.
The number of penalties levied has fallen in 2012.
Deadline
Millions of people in the UK fill in self-assessment tax forms each year.
The deadline for online returns this year was 2 February, while paper returns would need to have been submitted by the end of the previous October.
"We want the returns, not the penalties. This year, half a million more people have filed their return - which means we are issuing 44% fewer penalties," the HMRC said.
"But despite several reminders, nearly 6% of people have not sent their 2010/11 tax returns to us and they will be getting a penalty.
"We recognise that there will be some people within this group who do not need to be in self-assessment, and we will be happy to remove them from the system and cancel their penalty."
The penalties being issued over the next few weeks are in addition to £100 late-filing penalties for missing the deadline, which were sent out in late February and early March.
"This will be tough for anyone receiving this. The HMRC should look to be less hard-nosed about this, if somebody comes forward with a reasonable explanation," said Chas Roy-Chowdhury of the ACCA tax body.