Rail fare rises: Your stories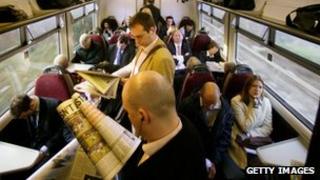 Rail passengers are facing fare increases from January.
In England some rail fares will rise by 6.2% or double the rate of inflation, but for other areas the rise may be higher.
Scotland will see ticket prices rise by 4.2%, while Wales has still to set a figure.
Commuters across the country have been sending in their reaction. Here is some of what they had to say.
Martin Belk, Edinburgh and London
I live in Edinburgh and London so have experienced rail services on both sides of the border, and travel regularly between Glasgow, Edinburgh and London.
The services are already shambolic in Scotland, and the fares have already gone up.
They spend thousands for unnecessary ticket barriers and ticket attendants to catch the lone one or two fare cheaters, but cannot even put enough coaches to services the customers who paid full price for a seat.
On the rush hour trains between Edinburgh and Glasgow there are only three carriages so everyone stands and the services are almost always late.
This industry needs to be overhauled and regulated.
To commute between Glasgow and Edinburgh every day is £14. It is a disgraceful ripoff and just seems like a mis-managed mess.
I've been travelling by train in England now for two months and the number of carriages aren't as much as a problem and the fares aren't as high for the distances travelled.
The staff are also much friendlier and more helpful.
I can't believe the problems in the Scottish rail service aren't being addressed.
Dan Smith, Garforth, West Yorkshire
The price rise is meaningless to me as I've already been priced out of using public transport.
It costs me around £5.50 a day to drive into York and back, whereas the 15 minute train journey is £15.
Even if I got a season ticket it still works out cheaper to drive, so I now drive from Garforth to my job in York.
I am lucky as there is free parking at work, otherwise the cost would be very high.
Rail companies seem intent on increasing revenue by raising prices without considering that they could raise revenue by attracting more passengers by offering realistic prices.
Parimal Kumar, Walton on Thames
I'm a commuter travelling from Walton on Thames to Waterloo. This time last year there was a 6% rise in ticket prices - judging by the news I'm expecting a similar rise again.
Genuine competition on each line is needed. A free market needs competition and proper regulation.
We should not be in a position that South West Trains is the only supplier of services to south west of England.
This could be implemented similarly to landing slots at major airports. One train company runs the 0715, for example, and another the 0730 - with price incentives if you always take the same train.
Unless you have plurality of choice, there will be no competition and hence rail users (be they commuters or others) will be screwed.
Reform of season tickets will be helpful as well - bringing out a carnet system where you buy a series of tickets in advance and use them when you need them, rather than fixed weekly, monthly or annual tickets. This will help people who don't commute every day.
Dominic Topham, Teddington
I am expecting an increase in the fares. Currently rail tickets constitute about 8% of my salary. I work in Canary Wharf, but also travel to see my daughter in Sheffield.
The increase will carry on because we have private companies running the railways. Private companies quite rightly want to make a profit and have their shares increase in value, but who pays for it?
Recently my family went to the south of France by train and it's amazing how the French get everything right. Here it just seems to be short term profits.
We need to set it up as a whole company and that means everything including Network Rail. Not nationalised per se, but independent and so profits can be re-invested into the whole network.
How does the government get money back? Simple, tax the railway as a normal company.
I think we can all agree it isn't working as it should. Money isn't being reinvested in the railways the way things stand.
Iain Paton, Linlithgow
To travel to my job in Glasgow, I pay £16 a day. This works out at 13% of my salary, increasing to 15% over the next couple of years if these rises continue, and that's even with just 1% above inflation in Scotland.
The operator - First Group - raises fares by a higher amount on the commuter routes, balanced by lower rises elsewhere.
The standard of service in Scotland is abysmal. Trains are frequently cut short, half-length during the peak period. They are often late, although not counted as late due to the strange monitoring regime that allows exceptions and five minutes delay to be counted as "on time".
The ticket office in my town is usually closed due to "staff shortages". If the weather is slightly inclement, this invariably results in cancellations and delays which are inexcusable in our foreseeably wet climate and during cold winters.
One of the reasons for train delays and overcrowding is a lack of rolling stock which I believe is down to poor maintenance and an unwillingness to invest. On one route, we had a slam-door carriage train and we were crammed into the guard's van on a particular occasion.
To add insult to potential injury, there is an attitude of hostility to passengers on the part of ScotRail, with flexi-pass holders being subjected to additional draconian checks and a cosmetic ban on alcohol induced anti social behaviour.
Craig Anderson-Jones, Southampton
I earn an average wage - not great, but not minimal, yet I pay 8.5% of my pre tax wage on train travel alone. That's £1784 a year.
Put on top of that the cost of childcare (nearly £600 per month) and my bills to get to work are nearly £1600 per month.
To some not much, to me a lot. I can't even afford to get on the property ladder, so I have to rent.
I don't actually think I could afford to get to work if this keeps going on!
It's a never-ending circle. The thinking seems to be: let's get people into work but pay them more if they stay on benefits, let's shake up the economy by increasing fuel and public transport costs.
I enjoy working, but more and more I question why I'm working when I see a lot more people with a better standard of life than me. I do not want to claim beneifts and want to earn my own living.
Ultimately I will be forced to move to a closer location. The cost of driving to work and parking all day makes it even more expensive to get to work.
Personally I think people who do travel distances to work should be able to claim it back or get tax break if they can prove the expenditure.