US retail sales jump unexpectedly in July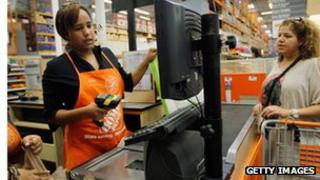 US retail sales jumped unexpectedly in July and by the biggest amount in five months, the Commerce Department said.
Lower fuel prices and modest growth in employment helped spur a 0.8% monthly rise in retail and food services sales.
They amounted to a seasonally-adjusted $404bn (£258bn) in July and were 4.1% higher from a year earlier.
The data pointed to a modest recovery in the economy, as spending makes up nearly three-quarters of America's economic output.
"Lower gas prices, a nice rally in stocks and stronger job growth... helped boost consumer spending," said Jennifer Lee, senior economist at BMO Capital Markets.
Employers last month added 163,000 jobs, while consumer confidence also rose in July for the first time in six months. The housing market is also rebounding, albeit slowly.
'Keeps us going'
In July, the biggest sales were recorded in building materials, furniture and health products, data showed. Sales of cars were also up.
Home Depot, the world's biggest home improvement retailer, on Tuesday said that net profits rose 12% in the second quarter to $1.53bn from a year earlier. It also increased its earnings forecast for full entire year.
Estee Lauder, the beauty care retailer, also reported a higher-than-expected quarterly profit and forecast more sales growth this year.
While markets cheered the retail figures, the US recovery remains fragile.
"The reports suggest that the US economy continues to grow, although at a slow pace," said Vassili Serebriakov, a senior currency strategist at Wells Fargo.
"The numbers, moreover, reduce the possibility of Federal Reserve action at the next meeting."
Economist Chris Williamson said caution was required as the monthly retail sales data can be volatile:
"The 0.8% rise in July came on the back of a 0.7% fall in June," he said.
But he added that, the data was "quite reassuring".
"The retail sales data suggest that the US economy fared surprisingly well in July in the face of ongoing uncertainty and renewed contraction in the eurozone."
The total number of unemployed people was 12.8 million last month and is about 8.3%. The US economy has to generate 100,000 new jobs a month just to stand still, according to the Federal Reserve.
The economy grew at an annualised rate of 1.5% in the second three months of the year, slower than the 2% pace at the start of 2012.
The US uses annualised rates, which are calculated by taking a quarter's growth and projecting the change if it was maintained over a whole year.