In quotes: Virgin loses the West Coast rail franchise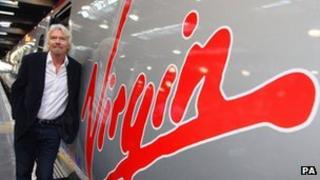 Virgin Rail has lost its bid to continue running the West Coast Mainline and will be replaced by the UK's largest rail operator, FirstGroup.
FirstGroup said it would "offer substantial improvements in the quality and frequency of services".
Sir Richard Branson said Virgin's loss of the franchise was "very disappointing news".
Here are a selection of views on who operates the UK's busiest rail route which serves 31 million passengers.
Sir Richard Branson, founder, Virgin Group
"This is the fourth time that we have been out-bid in a rail tender.
"On the past three occasions, the winning operator has come nowhere close to delivering their promised plans and revenue, and has let the public and country down dramatically.
"In the case of the East Coast Main line, both winners - GNER and National Express - over-promised in order to win the franchise and spectacularly ran into financial difficulties in trying to deliver their plans.
"The East Coast is still in government ownership and its service is outdated and underinvested, costing passengers and the country dearly as a result.
"Insanity is doing the same thing over and over again and expecting different results.
"When will the Department for Transport learn?
"Under our stewardship, the West Coast Mainline has been transformed from a public liability into a valuable asset for the UK, worth many billions of pounds.
"The service is a British success story and one to put up against rail companies around the world.
"It is a great shame that such a strong track record has been discounted in the evaluation process for one of the UK's most important infrastructure assets.
"The country's passengers, taxpayers and the West Coast employees deserve better."
Tim O'Toole, chief executive, FirstGroup
"We are delighted to be selected by government to operate this unique railway which connects communities across the country and plays a vital role in the UK's economic growth.
"We will be making significant improvements including reduced journey times and introducing new direct services.
"We will improve marketing and deliver a smart ticketing system, refreshed and improved train interiors, station upgrades and even better catering.
"In support of our commitment to generate increased passenger growth, we will be reducing Standard Anytime fares by 15% on average.
"Our bid also delivers value for taxpayers by returning premiums to the government, underpinned by sustainable growth in passenger numbers and revenues from the utilisation of significant available capacity.
"The new franchise will provide an economic return for our shareholders and is value-enhancing from day one.
"As the UK's largest rail operator with a highly experienced management team, we have established a vast wealth of knowledge with unrivalled expertise in operating every type of rail franchise.
"We have a proven track record of generating growth from investment in customer service enhancements and innovation, together with a strong focus on operational delivery and financial discipline.
"We look forward to bringing an exciting mix of innovation, and customer and service improvements to InterCity West Coast and creating a better railway for all."
Theresa Villiers, Rail Minister
"This new franchise will deliver big improvements for passengers, with more seats and plans for more services.
"Targets to meet on passenger satisfaction will be introduced for the first time in an InterCity rail franchise and passengers will also benefit from smart ticketing and from investment in stations.
"The West Coast is the first of the new longer franchises to be let by the coalition which has helped us secure real benefits for passengers by encouraging First West Coast Limited to invest in the future of the service."
Bob Crow, general secretary, RMT
"FirstGroup and the Government should be left in no doubt this morning that RMT will mount a massive industrial, political and public campaign to stop any attacks on our members jobs and the services that they provide to the travelling public as a result of this franchise award.
We are already preparing a ballot for industrial action in light of the threatened job cuts.
"It is clear that this franchise is being let on pure McNulty terms with a gold-plated, extended contract linked to massive cuts to jobs and passenger services and huge increases in fares as the winning FirstGroup looks to extract every penny that they can in profit.
"RMT will work with MPs and communities along the West Coast route to stop the savage assault on staffing levels and budgets that we expect to be at the core of this new franchise arrangement.
"The new First West Coast deal in an exercise in casino franchising that lays bare the whole sordid enterprise which is rail privatisation.
Companies promise the earth, jack up fares and slash jobs and services in a drive for profits, and if the numbers don't stack up, they throw back the keys and expect the public sector to pick up the pieces.
"First pulled the pin on the Great Western route to dodge £800m in payments due to the British taxpayer and here they are just months later in control of the West Coast InterCity route.
The highly-political award of this contract turns the UK rail industry into a global laughing stock and the British taxpayer will be rightly outraged."
David Sidebottom, passenger director at Passenger Focus
"For the passengers making their way from London to Manchester or Glasgow, the important thing is not the name on the side of the train, but the experience of the journey, the availability of staff when you need them and of course, the value for money.
"We welcomed the suggestion that passenger satisfaction targets could be included in the franchise, which would help us and passengers to hold the franchisee to account.
"We will now be reviewing the details to see exactly what passengers on this line can expect.
"With another above-inflation fare rise on the horizon, now more than ever, passengers will be looking for value, especially in terms of getting a seat and being on time."