Dealing with unemployment: Retraining workers in Wales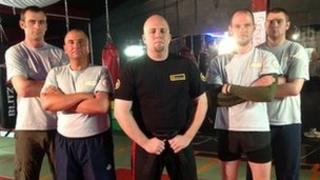 When the government announced their plans for spending cuts within the civil service, the people of Wales may have felt the most worried.
South Wales is home to a number of government departments - the Passport and Patents offices in Newport, the Land Registry and DVLA in Swansea, not to mention the thousands of people employed in medical and police services.
In west Wales and the Valleys more than 30% of jobs are within the public sector.
Making the move from public to private business - many for the first time - can be intimidating.
Alan Dowler, who works both with Cardiff University and with the E-Academy, which provides IT training for people changing careers, says both businesses and staff had to adapt.
"It's a question of changing attitudes," he says. "Private sector employers round here think that public sector folk don't have the right mindset. And for the workers themselves, they're often demoralised."
Mr Dowler says he knows of an accountancy firm that would not even interview people who had moved out of the public sector as they believed they were not cut out for working with business.
But he adds that the opportunities in Wales are wider than many people imagine.
International work
And that was what we had come to south Wales to see. When we arrived just before 0600 the Gotcha International Academy in Pontyclun was already bustling.
The early morning boot camp was in full swing, as locals got their fitness fix before work. But upstairs, in the gym, former military and police force workers were getting re-trained to work as security personnel.
Richard Spencer from International Security Star Alliance was putting them through their paces.
"We're teaching these guys knife and gun disarmament skills. The guys that come here end up working in private security for the maritime industry or door security on clubs," he says.
"There's work for them all over the world - Dubai, the United States, Australia."
Gotcha has seen more than 80 ex-military or police workers pass through their doors since Christmas and take on positions with private security firms.
The boss, Julian Wilde-Davies, expects the government cuts will mean they see more and more people turning to them.
"When people come they are often very downbeat," he says. "They're worried they don't have a life and it's really hard to sit down and plan a new one."
'Open to anything'
That is the challenge facing Susan Jackson, 60, who worked in a police station in Newport for 22 years.
Even though she has known for some time that she will be out of work by the end of August, she has still not found a job.
"I'm open to anything - I'm happy to retrain," she says. "I think it's my age that's against me, but I'm not ready to hang my boots up yet. I want to work."
Wales is not alone in this trend. Across the UK, areas once renowned for heavy industry and manufacturing moved on to become dependent on government-linked employment.
More than 700,000 of these roles are scheduled to disappear by 2017 and it can only be hoped that support remains for those who have to move on.