Sharp shares fall amid fears of worsening losses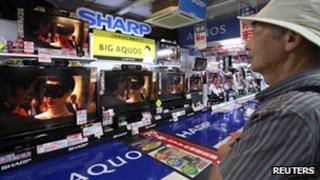 Shares in Japan's electronics group Sharp have slumped to their lowest level in nearly 37 years amid fears losses will balloon this year.
Shares fell 12.4% to 169 yen (£1.36) after Deutsche Securities downgraded the firm's stock to "sell" from "hold" and predicted a full-year operating loss of 159bn yen.
Meanwhile Goldman Sachs predicted an operating loss of 150bn yen.
Both figures are bigger than Sharp's own prediction of a 100bn yen loss.
Sharp has already lost about $1.5bn (£956m) in market value since it released its first quarter results earlier this month.
Cutbacks
Analysts have cited worries over weak demand for liquid crystal display televisions, its main product, as Sharp continues to lose ground to rivals such as Samsung.
Sharp is also under pressure from its creditors Mizuho Financial and Mitsubishi UFJ to restructure its business further in order to receive new loans.
The company recently announced it would cut 5,000 jobs to reduce costs.
Sharp is also in talks with Taiwanese electronics group Hon Hai Precision Industries to renegotiate a planned tie-up.
But whether the company will be able to shore up investor confidence remains to be seen. Interest by short-sellers is growing, according to data provider Markit, which could trigger another sell-off.
Short-selling is a technique used by investors who think the price of an asset, such as shares, will fall.
They borrow the asset from another investor and then sell it in the relevant market. The aim is to buy back the asset at a lower price and return it to its owner, making a profit along the way.