How does Ramadan affect businesses?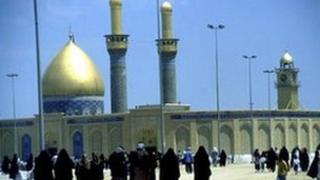 What will the fasting month of Ramadan mean to businesses - lower productivity and performance - or a surge in cafe culture and retail spending?
Ramadan, the ninth month of the Islamic lunar calendar, started on 20 July and for Muslims it is the most holy month.
During Ramadan Muslims cannot eat, drink, smoke or even chew gum during daylight hours.
People who are ill, elderly, menstruating or pregnant are exempt, but otherwise, every other able-bodied Muslim is expected to sacrifice as a sign of faith.
People stay up late to break their fast and get up in the early morning hours so they can eat before daybreak.
This results in shorter sleeping hours which can cause people to become more lethargic later on in the day.
"The productivity of workers declines in the holy month by 35-50% as a result of shorter working hours and the change in behaviour during this month," says Samer Sunnuqrot, an economist based in the Jordanian capital Amman.
He points out that people become less efficient and that they might even become bad tempered.
"Decisions and meetings will be postponed until the period of Ramadan is over, especially in governmental institutions."
He adds: "This causes lower productivity and performance and might incur losses for business people because of the postponing of decisions and processing of government transactions."
Increase in demand
Levels of observance of Ramadan will vary in different countries and cultures but most Muslims will conform to some extent with the requirements of the fast.
In Saudi Arabia, employees holding senior posts are not entitled to work reduced hours and are required to work the hours that are necessary to carry out their duties in full.
In Algeria meanwhile, control and fraud repression brigades have closed more than 1,500 business premises because of non-compliance with the rules regarding fasting during the day, according to the trade ministry.
In most countries, some restaurants will remain open throughout the day, with a sign saying that food is served to non-Muslim people only.
Fasting during the day does not lead to a fall in demand for food.
According to Mr Sunnuqrot, people tend to consume more and even purchase more than they actually need.
"The positive side of Ramadan for business people is a higher demand for goods and services and higher consumption," he says.
"That often means higher prices, which translates into higher profit margins for merchants, retail stores, restaurants and cafes - especially those which arrange amusement programmes for after iftar [the breaking of the fast at the end of the day]."
In Bangladesh, the government has temporarily halted the export of fish to ensure there is enough for domestic consumption and to prevent the prices rising.
The higher consumption equates to higher economic growth, although this is generally only a short-term effect.
"Merchants and individuals witness a decline in their purchasing power after Ramadan as a result of the higher prices against their fixed income," notes Mr Sunnuqrot.
It is not so different to the scenario witnessed over the Christmas period in some countries, when there are pronounced fluctuations in some types of businesses, particularly retail and entertainment.
Cafe culture
At the end of Ramadan there is normally a lot of activity as people traditionally visit families to celebrate Eid-ul-Fitr, the three-day festival marking the end of the fast.
It is also a time when people exchange gifts - very often clothing, so sales of traditional costumes peak towards the end of the holy month.
Cafes generally do a roaring business during Ramadan.
Going to cafes after iftar and spending time there watching television, smoking shisha and chatting with friends is a Ramadan tradition.
This year Ramadan coincides with the summer vacation which has been an added advantage for cafe owners.
One man, who runs a cafe on King Fahd Road in Jeddah, Saudi Arabia, says: "There has been a 100% increase in the number of customers during the holy month."
Smoking shisha is not the only factor that results in attracting huge numbers of visitors, especially youngsters, to the cafe.
"Most of them come to spend their free hours as well as to watch Ramadan programmes on satellite channels," he says.
Another cafe owner says it is a very good season for them to earn high profit margins.
"Ramadan attracts huge increases in profits compared to the rest of the year," he says.
Moving feast
Charities also tend to get a boost during Ramadan as mosques collect donations and people are encouraged to donate online.
"It is our busiest time of the year," says Safiya Baharune at Islamic Relief in London.
Because Ramadan is based on the Islamic lunar calendar and its timing is therefore determined by the sighting of the new moon, the holy month arrives approximately two weeks earlier every year.
When it falls during the winter months, with shorter daylight hours, business tends to be conducted with less interruption.