Coping with Northern Ireland's burst property bubble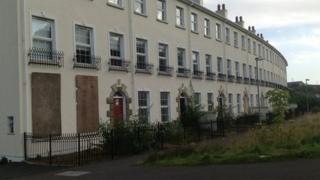 It is eerily silent on Quoile Crescent - and it always is. The housing estate in Downpatrick was abandoned by builders in 2008.
Of the 30 family homes, only two are occupied; the rest stand empty and unfinished. The roads are not paved. The street lights are simply steel poles with wires sticking out of the top.
Rubbish is strewn among weed-filled flower beds and grass as high as your knees. The Georgian-style estate is but a shadow of what it could be.
The two families who live here have been campaigning for the banks and administrators overseeing the site to allow the properties to be put up for sale.
George Green and Harry McKenna are angry and upset that they have to live among the rubble, unable to sell because the value of their homes has fallen so dramatically since they bought them.
"It's a living hell," says Mr Green. "Something has to be done. It can't stay like this."
There are more than 5,000 empty properties in Northern Ireland - spaces left vacant when the huge housing bubble of the last decade burst spectacularly in 2008.
When the effects of the credit crunch rippled beyond the US sub-prime market across to Europe, the Northern Irish market was revealed to be vastly overpriced - and homeowners vastly overexposed.
Property development firms, constructors and even banks disappeared.
'Champagne lifestyle'
On a rainy Belfast afternoon we drove around with ex-property developer Stephen McCann. Around each corner he pointed to boarded-up properties, now repossessed by banks.
He "bought to sell" - the phenomenon at the height of the housing market, where people were buying houses, and by the time the paperwork was processed, they'd made a decent profit.
At the time Mr McCann was a builder and he wanted to add value by securing planning permission on properties to make them even more lucrative.
He went into property seriously in 2003, and by 2008 had a substantial portfolio with a fast turnover.
Looking back, he said it all felt too easy. "The bank was giving out money like it was confetti. We were living the high life, we were making money, we were taking executive trips and helicopter rides. We were living the champagne lifestyle."
And then the bubble burst.
Mr McCann had just bought two terraced houses he intended to split into flats and sell for £420,000.
"Almost overnight it became worthless. Today the same house is worth £65,000," he says. "We went from being comfortable and wealthy to being almost completely broke. It was like a pack of cards, one after the other."
Looking to export
As a result Northern Irish firms working with the construction industry are making their money elsewhere.
Eamonn Connolly manages insulation firm Sipfit. Business is booming as builders look to make properties more environmentally friendly.
But Mr Connolly does most of his business in mainland Europe and south-east England; only about 5% is local.
"I'd love to do more business in Northern Ireland but there's a lack of confidence in the local economy and there's a lack of funding from the banks. They're rebuilding their balance sheets," he says.
"Construction and property is seen as unclean. It went too far, too fast so it's got a bit to go before it restabilises. A lot of businesses are looking to export sales to grow."
The Northern Irish story is extreme but smaller, less delicate bubbles popped all over the UK, leaving thousands of people stuck in properties they didn't want or couldn't sell, and banks have had their fingers so badly burned they are reluctant to lend to new buyers.
The moral of the story is that a house value is nothing more than a number - the money cannot be counted until it is in your hands.