Student finances become more complex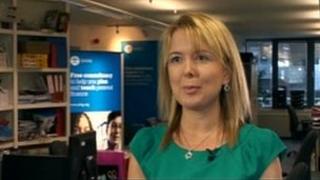 It is an age old story: students attending university are strapped for cash.
But now their situation may be getting worse.
Those attending higher education are finding the financial picture more confused than ever.
Students are faced with starting out in their own place and the budgeting that requires, together with arranging loans, dealing with tuition fees and understanding this year's changes to student funding.
For charities like the Personal Finance Education Group, the problem comes down to a lack of financial training in school.
"Student finance is so much more complicated," says Tracey Bleakley, the group's chief executive.
"People are finding it very confusing this year about the changes to student finance."
Parental advice?
It is easy to claim that teaching children how to budget and navigate the new financial arrangements is the role of parents rather than schools.
But with funding for students coming from so many sources, and those changing hugely since many parents went through the system, it is sometimes not possible for them to help.
"Parents certainly have a part to play," says Ms Bleakley.
"But we believe the only way that every child in the UK can gain the skills, knowledge and confidence to handle money is through education in schools."
Students at the University of Greenwich in London agree.
"I wasn't used to paying rent, buying amenities, paying for my own food," says Hannah Kokogyi, who is graduating this year after studying law.
"Although everyone tells you to budget you don't quite realise how much money is spent on little things like cleaning products, shower gel, toilet paper and bin bags."
Do it yourself?
Others, like mature student Deavon Sinclair, have also been caught out.
He studied for a Higher National Diploma and took out loans to finance his way through the course.
He then got a job and paid the money back.
When he returned to university to get a degree, he did not realise he was not allowed to take out the same kinds of financing.
"I should have done more investigation," he says.
"I've had to pay for the first two years of the course and find the money myself."
Those entering university after getting their A-Level results are similarly worried about how to finance themselves, and whether they have checked all the resources available to get every piece of information.
"My school didn't really get involved," says Gemma Vernon.
"They just gave us web sites and things to look at. Most of the research we had to do ourselves."
'It's getting better'
Universities are also concerned that students are arriving without the right skills.
That may distract them from their studies as they fret about money.
"We get to work with people who have very different views on finance. Some people are not into it at all," says Sara Rageb, Head of Student Financial Advice at the University of Greenwich.
However the Personal Finance Education Group is hopeful things will get better.
They are visiting schools to help show teachers how to roll skills in budgeting, finance and research into the already packed curriculum.
Ms Rageb is also hopeful things will improve.
"I think there's been a real step up in the information that is now available to students," she says.
"Web sites like the government's and ours are making use of social media and videos to help people understand. I think it's getting better."
That may help a more financially literate generation of students enter higher education as the new funding programmes take hold.
For those going to university this year, the emphasis remains firmly on individual responsibility.