Qantas: Alan Joyce to forgo bonus and pay rise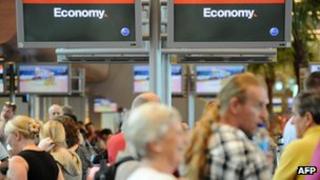 Alan Joyce, chief executive of Qantas, has said he will forgo his bonus and pay rise after a sharp plunge in the airline's profits.
Qantas has forecast a 90% fall in its profits for the financial year ending 30 June, amid losses at its international operations and high fuel costs.
The firm has also been hit by a series of strikes and labour disputes.
The troubles have seen its share price drop 35% since April this year.
"It's absolutely appropriate that when company returns go down, executive pay should go down as well," Mr Joyce was quoted as saying by the Australian Financial Review.
"It has been an extremely tough year for Qantas shareholders and what we want to show is that my pay has to have a huge correlation with the profitability of the company."
When contacted by the BBC, Luke Enright, a spokesman for Qantas, confirmed the comments.
The firm is scheduled to announce its earnings for the last financial year on 23 August 2012.
Further pain?
One of the biggest areas of concern for Qantas has been its international operations. Full year losses at the division are expected to rise to A$450m ($470m; £300m).
Amid such losses, the airline has announced various restructuring measures including plans to split its international and domestic operations into separate entities.
The carrier has also announced jobs cuts as part of its efforts to cut costs.
Analysts say that Mr Joyce's decision to give up his bonus and pay rise, indicate that further cost-cutting measures may shortly be introduced.
"This is a clear signal that there will be further attempts to cut labour costs at Qantas' home base," Michael McCarthy, chief market strategist at CMC Markets in Sydney told the BBC.
"There will be pain for Qantas workforce within the next 12 months."
Mr McCarthy added that Mr Joyce's decision demonstrated "his commitment to revive the business, even if it takes personal sacrifices".