Germany puts pressure on Greece PM over bailout targets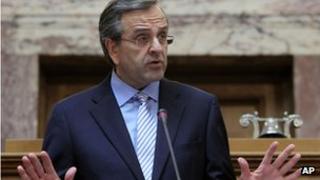 Greece must stick to its agreed bailout conditions, Germany says, at the start of a week in which Greece is expected to ask for more time to make cuts.
The German foreign minister Guido Westerwelle said a "softening" of reforms was not possible.
Greek Prime Minister Antonis Samaras is to meet his German and French counterparts this week.
At issue is whether it has done enough to receive 31.5bn euros ($38.8bn; £24.7bn) in loans next month.
Greece needs this next instalment of its second major international bailout in order to avoid a default.
Speaking after a meeting with the Greek foreign minister Dimitris Avramopoulos in Berlin, Mr Westerwelle reiterated that the final decision would depend on an assessment of Greece's progress towards cutting its deficit being carried out by the group of lenders known as the troika.
Inspectors representing the European Union, International Monetary Fund and the European Central Bank will publish their report next month on Greece, particularly its spending cuts, and efforts to raise revenue by clamping down on tax evasion and privatising state assets.
Mr Westerwelle also pledged support for Greece staying within the eurozone.
"The German government wants us to remain together in the eurozone [but] the key to success lies in Athens," he said.
Finnish foreign minister Erkki Tuomioja, whose government has in the past publicly discussed a possible Greek exit, said he thought Greece could be forced to default on its debts.
"We certainly do not hope this will happen, but without further support or changes to its programme it looks likely," he told the BBC.
He said a Greek exit was being talked about among eurozone governments, although "not on official terms".
"I would expect that this is something that is being referred to in the corridors," he said.
When asked about a possible break-up of the euro he said: "This is something that everyone... is looking into but it is not something that can or should be discussed openly," he said.
'Transparent procedure'
On Wednesday, Mr Samaras will meet Jean-Claude Juncker, the Luxembourg premier who heads the group of eurozone finance ministers.
The Greek PM will meet German Chancellor Angela Merkel on Friday and French President Francois Hollande on Saturday.
Mr Samaras' expected plan to request a two-year extension on its austerity programme has provoked frustration among other European politicians.
"There's a process we're engaged in to evaluate the efforts made by Greece in recent months, which we know was set back by elections," European Affairs Minister Bernard Cazeneuve said on France's Europe 1 radio. "We'll evaluate the situation and try to take a common position."
Some politicians in Germany have opposed giving more leeway to Greece.
Michael Fuchs, deputy chairman of German Chancellor Angela Merkel's CDU parliamentary group, said his faction would not give Greece the two-year extension it wants on its austerity programme.
"We have decided - the CDU-CSU faction in the Bundestag - that there would be no more expansion at all," he told BBC Radio 4's World at One programme.
"We think that it's enough time and it's very difficult for us to explain to our constituencies in light of next year's elections why we are giving them more time."
"I really think Greece has to find a solution for themselves first before we can help them anymore."
Financing hole
BBC Berlin correspondent Stephen Evans said the differing political situations were determining the conflicting signals from Berlin and Athens.
"In Greece the prime minister has promised a softening of the bailout terms, whereas in Germany the government is under pressure not to soften by one single millimetre," our correspondent said.
Stuck in recession, Greece is heavily in debt and has implemented more than 43bn euros worth of austerity measures since 2010 in order to try to bring down its budget deficit.
The German weekly Der Spiegel has reported that an initial assessment by the inspectors suggested Greece may need to cover a financing hole of up to 14bn euros over the next two years, rather than the 11.5bn Athens has identified for 2013 and 2014.
Last week, Greece was able to raise 4.06bn euros with an issue of three-month treasury bills, but the government had to offer an interest rate of 4.43% to attract investors.
It was expected to use this money to make a 3.2bn euro repayment, due to the European Central Bank on Monday. The ECB declined to comment on whether it had yet received the funds.