Mining investors take stock after Marikana deaths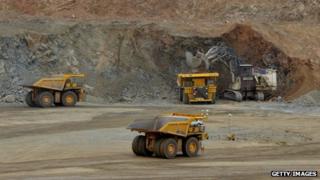 A strike at a mine in South Africa turned violent last week, shining a light on the murky business of extracting some of the world's most precious metals.
Police shot dead 34 miners on strike at the Marikana platinum mine, north-west of Johannesburg, in an ongoing dispute over worker pay.
Lonmin, the world's third-largest platinum producer, is the administrator of the mine.
Have the deaths affected the way that investors perceive the dangers of finding crucial commodities like gold, silver and platinum?
And what impact will this have on the reputation of the mining industry?
'Wake-up call'
The price of platinum reached its highest level in six weeks due to the killings at Lonmin and the fallout from the strike.
And, while the company has taken a hard line to the strike, investors have not rewarded it.
Lonmin's share price dropped 15% last week. Other miners have also seen their share price drop.
"This will serve as a wake-up call," Kieron Hodgson, a resource analyst at Charles Stanley, tells the BBC.
"Extraction isn't easy. Investors have become blase about the risks of extraction."
The high visibility of the deaths at Marikana and a spate of recent industrial accidents have illustrated the human toll of extraction, and how dependent many of the world's industries are on workers in poor parts of the world doing their jobs.
Just last week, for example, at least 60 miners were killed after a shaft collapsed in a gold mine in north-eastern Democratic Republic of Congo.
In July, clashes in northern Peru between police and demonstrators opposing a multi-million-dollar project - an extension of Yanacocha, Latin America's biggest gold mine - left at least three dead.
And, of course, the 33 Chilean miners who were trapped underground for 69 days in 2010 received worldwide attention.
"Put it this way - you don't get much iron ore in Kent, do you?" Mr Hodgson says. "The geographies of where these mines are based are generally high-risk."
The metals mined in poor countries are wanted in rich countries, leading to tensions between the workers in places like Marikana and shareholders in London and Sydney.
Platinum is used in catalytic converters in the exhausts of cars, fuel cells for electric and hybrid vehicles and in other technical uses like for specialist computer equipment.
The metal is also in huge demand for jewellery in countries such as India and Japan.
Reputational damage
With its overdraft nearing its end and a strike halting its main source of income, Lonmin could be facing a financial reckoning.
"As the strike goes on longer and longer, they lose more and more production and that's more cash out and less cash in," says Charles Gibson, head mining analyst at Edison Investment Research.
But Lonmin may also have taken a hit as to how it is viewed.
The miners are striking because of they earn between 4,000 and 5,000 rand ($484-$605) a month, and they want their salaries increased to 12,500 rand ($1,512).
Lonmin has branded the strike illegal and refused to negotiate with the union.
Last year, the company sacked some 9,000 employees after what it described at the time as "unprotected industrial action". Lonmin and the NUM union said all were later reinstated.
David Lennox of Fat Prophets says: "It is a difficult situation for both the company and its employees.
"We think the company may look at being more conciliatory going forward but the company does have to keep in mind that it has to look at the longer term."
So far, Lonmin has not sounded like backing down.
"Employees could therefore be dismissed if they fail to heed the final ultimatum" was their ultimatum to strikers only days after the killings.
'Repricing of risk'
But the events of last week - shedding light on the often-miserable conditions of workers - could also hurt the image of mining in general.
For years, commodity prices surged and investors rode the wave, perhaps without thinking of how difficult it is to get to the metals.
And, moreover, how rare they really are. South Africa alone accounts for about 75% of the world's supply of platinum.
"For years, commodities were the only game in town," Mr Hodgson says. "It was easy to make money."
Now investors will begin to consider more seriously factoring in some of the difficulties of extracting these precious metals, he says.