Nguyen Duc Kien arrested for' economic violations'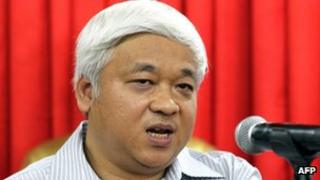 Nguyen Duc Kien, one of Vietnam's richest businessmen, has been arrested for suspected "economic violations", according to the local media.
Mr Kien is the one of founders of Asia Commercial Joint Stock Bank (ACB), one of Vietnam's largest banks.
Shares of ACB fell 7% on the Ho Chi Minh Stock Exchange after the news.
However, ACB said that Mr Kien was not involved in the day-to-day operations of the bank and the arrest would not impact the bank's business.
"It is a personal issue (of Kien)," Nguyen Thanh Toai, deputy general director of ACB, was quoted as saying by Tuoi Tre News.
"Kien is no longer a major shareholder, nor a board member, and is not involved in the bank's board of executives.
"The detention of Kien is the decision of the authorities so it does not affect the normal operation of the bank," he added.
Tuoi Tre News reported that authorities also conducted a search at his residence in Hanoi on Monday night and seized several documents .
Mr Kien is also a shareholder in other commercial banks, including Kien Long Commercial Joint Stock Bank and the Vietnam Export-Import Commercial Joint Stock Bank