Spain's borrowing costs fall on hopes of ECB action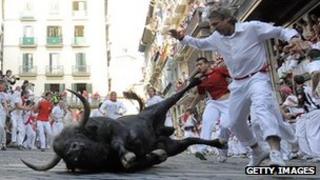 Spain's short-term borrowing costs have fallen boosted by hopes that the European Central Bank (ECB) will soon start buying its bonds.
The struggling country, which investors fear could need a full sovereign bailout, sold 4.5bn euros (£3.5bn, $5.5bn) of bonds.
It sold 18-month bonds at 3.33%, lower than the 4.24% interest rate it was forced to pay in July.
The ECB has said it would come up with ways to help eurozone countries.
"The focus is very much on the ECB's pledge of intervention, in combination with the EFSF," said Deutsche Bank economist Mark Wall, referring to the eurozone rescue fund.
The ECB is expected to detail its plans for addressing the eurozone's debt crisis in September.
The rate of interest Spain is paying on its debts remains very high due to investor concerns that it may require a full sovereign bailout.
Last week, Spanish Prime Minister Mariano Rajoy said he would consider asking the ECB to buy Spanish bonds, depending on the conditions attached.
"It it seems reasonable, we will do (it)," Mr Rajoy said.
The government has asked for bailout for its banks of as much as 100bn euros in June but speculation persists it will need a full government bailout.