Belize misses $23m interest payment as default looms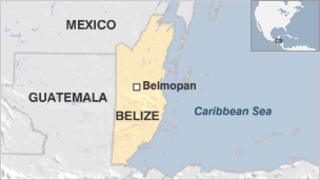 Belize is in danger of defaulting on its debt after it missed a $23m (£14.6m) bond payment due on Monday.
The government still has a 30-day grace period to pay the interest, but said it was unlikely to be able to do so.
Creditors accuse Belize of trying to force a Greek-style debt restructuring on holders of the $550m bond, which represents half its public debt.
The row has drawn attention to Caribbean countries' growing debt burden amid falling tourism revenues.
Much of the region depends on tourists from Europe and the US for its income, but the global financial crisis has cut visitor numbers severely.
'Scalping'
The Belizean "superbond" is due to mature in 2029, but pays an annual "coupon" to holders, which now amounts to 8.5%.
Prime Minister Dean Barrow said he would renegotiate the terms of the bond after he won a second term in March.
Earlier this month, he said Belize could not afford the coupon payment, adding: "Our hope, however, is that we can move quickly towards a sensible restructuring of the instrument."
The government's proposals include extending the maturity date of the bond and cutting the amount to be repaid by up to 45%.
Creditors have been unenthusiastic, saying the offer is worth less than this year's Greek debt restructuring.
"[It's] not a haircut, it's a scalping," international finance professor Arturo Porzecanski, of American University in Washington, told Bloomberg news agency.
"It puts Belize in the same league as the most punishing restructurings in history."
Currency peg
Belize, like its fellow members of the Caricom regional trade bloc, has been suffering from the global downturn.
As with many other countries in the region, its currency is firmly pegged to the US dollar, at two Belizean dollars to one US, so it cannot devalue its way to improved competitiveness.
Declining tourism has proved a problem, but the country has also added to its debt burden by nationalising local utilities Belize Telemedia and Belize Electricity.