Aga Rangemaster looks overseas as profits fall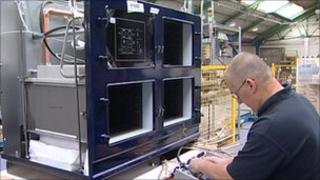 The maker of the Aga cooker has reported a sharp fall in profit as households rein in home improvements during the recession.
Pre-tax profits at Aga Rangemaster for the first half year were £1.6m, down 62% on the £4.2m the firm made a year earlier. Revenue fell 2% to £119.2m.
The company said it expected the UK market to remain weak "for some time".
It would therefore be focusing on new markets such as China and the US to boost sales, the firm said.
Shares in Aga had fallen by more than 7% by mid-afternoon trading.
"The continued challenges in the economy and lack of activity in the property market have clearly had an impact on demand in the first half as customers delay purchasing big ticket items," said Aga chief executive William McGrath.
Despite the overall fall in revenue, the company saw sales rise at its Fired Earth interiors unit.