Newcastle Utd fans most 'emotionally loyal' on betting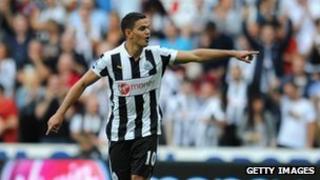 Newcastle United supporters are the most emotionally loyal when it comes to gambling on their own team, says online betting exchange Betfair.
The firm says fans of the North East club very rarely back a team other than their own to win a football match.
But they are also less likely to bet than fans of other major PL teams.
Fans of Arsenal place the most bets, and are also most likely to bet on other clubs too, with Man United their second most favourite team to back.
Betfair says that it uses complicated algorithms that take a long term analysis of betting patterns, and which enables them to built a picture of a gambler's "fandom".
The data, which was analysed anonymously, was taken from more then 10 million customer bets placed on the Betfair website.
It was collected during the first three months of the 2011/12 Premier League season, which was eventually won by Manchester City.
City and rivals Manchester United were the most heavily backed "second" favourite teams by Premier League fan customers, except by Liverpool supporters, whose second favourite team to bet on was Arsenal.