The homeowners who cannot move home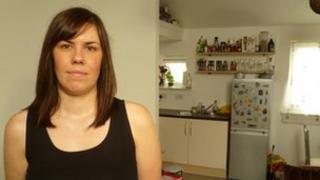 A report warns that millions of mortgage holders are effectively trapped in their homes because their deposits, or savings, have disappeared.
Falling house prices over the last five years have meant dramatic reductions in the amount of equity that homeowners possess.
The report, by Lloyds TSB, says the trend is causing a bottle-neck in the housing market, and preventing many families from moving.
The problem is particularly acute for so-called "second-steppers," people who managed to buy their first homes, but now want to move up the housing ladder, as their family expands.
"I think people will be shocked to find that the actual value of their property has fallen so much, that it might be impossible for them to move on," says mortgage expert Melanie Bean.
"It's the first generation trapped in their homes."
"Hard to swallow"
Castle Vale, in Birmingham, is one area badly affected.
It was popular with first-time buyers five or six years ago, and thousands bought starter homes and flats here.
Many had assumed they were getting on the first rung of the housing ladder, and having put down substantial deposits, they would be able to move to larger properties in years to come.
Unfortunately some had bought just at the peak of the property market, in 2007.
Helen Ryan, who works for the police, was one such buyer.
She put £16,000 down as a deposit, and assumed that her equity would grow, as house values increased.
But in fact the value of her two-bedroom flat has fallen by around 15%.
She and her fiancé want to move out and start a family, and that is proving extremely difficult.
Her original deposit has been virtually wiped out, and she needs to start saving all over again.
"I'm really sick about it," she says.
"I know when we had the valuation on the flat, and we found out that we had lost so much money, it was hard to swallow."
Toughest market for 25 years
Today's report, from Lloyds TSB, says "second-steppers" like Helen are facing the toughest mortgage market for 25 years.
Back in 2005, people in her situation might have expected to hold around 44% of the value of their homes as equity, as a result of rising house prices.
In 2012 such homeowners actually hold an average of just 5.4% of their homes as equity. That equates, on average, to £9,000.
Fees to estate agents and removal firms, as well as stamp duty for those buying larger properties, can eat up most of such sums.
Suren Thiru, a housing economist at Lloyds TSB, says the problem has serious implications for the wider housing market too.
"It's a bottleneck that significantly reduces the number of homes available to first-time buyers," he says, "as well as stopping many homeowners who need to move, possibly for family reasons."
Banks demand big deposits
If you had been a bank manager back in 2007, lending homeowners money for a mortgage would not have been a difficult calculation.
Prices were rising, and even with small deposits, a bank could be certain of getting its money back.
But according to the Halifax, average house prices have fallen by 19% since then.
All of a sudden, banks are nervous that that trend could continue.
So they are asking for big deposits, to protect the value of their loans.
"To get the best rates, banks are often looking at a 40% deposit," says Miles Shipside, a property expert with Rightmove.
Melanie Bien agrees: "A few years ago you might have only needed a 5% deposit," she says.
"These days you might need 20%, 25% or even 40% to access the very best rates."
"Slippery slope"
Many first-time buyers manage to save for a deposit only with the help of parents or relatives.
Now some of them face having to go back to their parents for further help, to get on the next rung of the property ladder.
"It's not so much a ladder," says a disillusioned Helen Ryan, "more a slippery slope."
Yet she is still leafing through property particulars in her flat in Castle Vale, and dreaming of finding a house big enough to start a family.
The fact that some experts expect the housing market to continue falling this year and next may not encourage her to be optimistic in her search.