Mortgage affordability 'improving for new borrowers'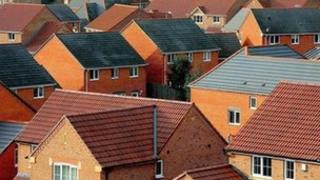 Mortgage payments for qualifying borrowers are more affordable than at any time in the past 15 years, a report has suggested.
The Halifax says new homeowners need just over a quarter of take-home pay to cover loans, the lowest proportion of their disposable earnings since 1997.
Halifax attributed the drop to record low interest rates and weak house prices in most parts of the UK.
But it comes after recent data revealed mortgage approvals at a 15-year low.
Halifax said the "key factor" of continuing low interest rates, which currently stand at 0.5%, would help keep house prices steady for the rest of 2012.
Overall, it said mortgage payments as a proportion of income had dropped by nearly a half since the market's peak of 48% in autumn 2007.
It said affordability had improved in every UK nation or region since 2007, particularly Northern Ireland.
The independent housing expert, Henry Pryor, pointed out that the figures assumed people were paying a deposit of 30% - the long-term average taking into account remortgaging - something well out of reach to many first-time buyers.
He told the BBC: "Out in the real world, the biggest drag on the buying and selling process is that people are having to scrape together a year's worth of after-tax pay for an acceptable deposit."
Tougher market
The Halifax's findings suggest the biggest drop in typical mortgage payments as a proportion of earnings has been in Northern Ireland - where they have fallen by about two-thirds.
Scotland, Wales and Yorkshire and the Humber have also seen payments nearly halve in five years.
And in London, where steady overseas buyer demand has kept house prices relatively strong, new borrowers are seeing potential payments drop to about 35% of their disposable earnings - down from 56% five years ago.
Scotland now boasts the 10 most affordable areas, with potential mortgage payments at around 15% of disposable earnings in East Ayrshire.
Some of the least affordable areas are found in London and South East - with payments in Chelsea and Kensington hitting around 76.6% of disposable earnings.
The news of improving affordability for new borrowers comes at a time when those trying to get a mortgage for the first time are finding it tougher, as lenders tighten their criteria due to the weak economy.
Recent findings from the British Bankers' Association revealed a fall in mortgage approvals to a 15-year low in June.
And several of the UK's biggest lenders, including the Halifax, have recently raised their standard variable rates (SVR), affecting more than a million home owners.
Lenders have blamed the move on the rising cost of funding mortgages.
Borrowers usually switch to an SVR default rate once their initial fix or tracker deal period finishes.
'Low levels'
The range of mortgages available to people with deposits of 10% or less and first-time buyers has also slumped significantly in the last six months, according to the comparison website, MoneySupermarket.
Experts say those to benefit from recent increased competition among lenders has mainly been borrowers with the big deposits.
And many of those taking their second step on the property ladder are struggling under the harshest market conditions in decades, as borrowers become stuck in negative equity after buying their first property at the peak of the market - according to a Lloyds TSB report published last week.
Halifax housing economist Martin Ellis said: "Lower house prices and reduced mortgage rates have led to a significant improvement in housing affordability for those able to fund the necessary deposit to enter the market over the past five years.
"As a result, mortgage payments for a typical new borrower currently account for the lowest proportion of earnings for 15 years.
"The relatively low level of mortgage payments in relation to income is providing support for house prices.
"The prospect of interest rates remaining at low levels for some time yet is expected to continue to be a key factor supporting the demand for homes, helping to keep house prices around their current level during the remainder of 2012."
The study used figures from the Office for National Statistics, the Bank of England and Halifax's own database.
In all cases, it applied the national average mortgage loan-to-value (LTV) of 70% to average house prices to work out the average new mortgage.
That average was measured over the last 30 years.