German business confidence falls again, says Ifo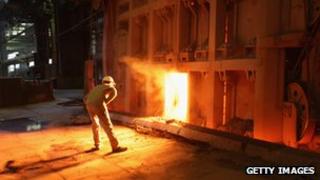 German business confidence has fallen for the fourth month in a row to a 29-month low, according to the closely-watched Ifo survey.
The index compiled by the think tank fell to 102.3 in August from a downwardly revised 103.2 in July.
The survey of 7,000 firms suggests businesses are increasingly nervous about Germany's ability to withstand the weak eurozone economy.
Growth in Europe's largest economy slowed between April and June to 0.3%.
"Enterprises are increasingly pessimistic about their business development," Ifo president Hans-Werner Sinn said.
"The German economy is weakening further."
The drop in the Ifo index indicates that German companies fear their European export markets will continue to weaken and that demand from fast-growing emerging economies may not be enough to top up demand.
A report last week suggested that monthly orders for manufacturing goods fell at the fastest rate since April 2009.
Some German industrial giants, including Thyssenkrupp and Opel, have said they are cutting working hours because of weaker demand.
"Exports and domestic consumption have shielded the German economy against the euro crisis virus up to now," said ING analyst Carsten Brzeski.
"This immunity, however, has been crumbling away quickly over recent months. As a consequence, it looks as if the German economy will, at best, be treading water in the coming months."