Baoshan Steel shares rise as it announces buy back plan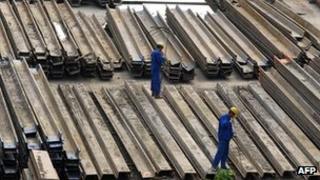 Shares of Baoshan Steel, China's biggest steelmaker, have surged after it announced a share buy back plan, in an effort to boost investor confidence.
Its shares jumped as much as 10% to 4.48 yuan at the Shanghai Stock Exchange.
On Monday, the firm said it plans to buy back up to 5bn yuan ($786m; £500m) worth of stock at five yuan per share.
It also reported a net profit of 8.39bn yuan for the April to June quarter, boosted by an asset sale.
That compares with a net profit of 2bn yuan during the same period a year earlier.
Future concerns
China is the world's second-largest economy, and its biggest consumer of steel. But the pace of its economic growth has slowed in recent times, slumping to its worst for three years in the second quarter.
The slowdown has seen a dip in demand for steel, as well as a drop in prices. The combination of these factors has hurt profits of Chinese steelmakers.
In its latest earnings release, Baoshan Steel said that excluding one-off items, its net profit for the first half of the year fell 53% from last year.
It also warned that things are likely to remain difficult in the coming months.
"Steel prices (are) unlikely to increase much in the second half of this year due to the oversupply. Prices are expected to stay at low levels," the firm warned.
Last week, Wuhan Iron & Steel, China's fourth-largest steelmaker, reported an 89% drop in its first-half net profit to 135m yuan.
Meanwhile, Maanshan Iron & Steel Company posted a wider-than-expected loss of 1.9bn yuan for the first six months of the year.
Angang Steel Company also reported a net loss of 1.98bn yuan in the first half, compared with a profit of 220m yuan a year ago.