Sales of top-end houses jump, says Land Registry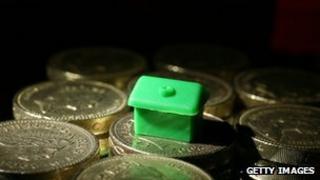 House prices in England and Wales have risen slightly in the past year, but demand for £1m-plus properties has grown sharply, figures have shown.
Prices rose by 0.3% in July compared with a year earlier and by 0.8% on the previous month, the Land Registry said.
London saw the biggest rises, with prices up 6.5% on the year.
The number of properties worth more than £1m sold in May in England and Wales more than doubled to 562 from a year earlier, the registry added.
Sharp falls
The average UK house price in July was £162,900, up from £161,777 in June.
But a number of regions saw sharp falls in prices. In the North West, prices dropped by 3.9% year-on-year, while in the North East, they fell by 3.8%.
Yorkshire and the Humber (-2.5%), the South West (-1.9%), Wales (-1.3%) and the West Midlands (-0.8%) also saw prices fall.
Analysts said the Land Registry's data chimed with other house price indexes that showed a stagnant market in the UK as a whole.
"The market remains extremely fragile and the long-term forecast for UK homeowners is pretty gloomy," said independent housing expert Henry Pryor.
"It seems clear that sellers have been duped by the summer sunshine into asking more than they ought and it now seems inevitable that the proportion of those selling who have to reduce their asking price will rise from the 30% who have already had to do so at least once."
Other homeowners will simply wait for the market to pick up before putting their houses on the market, analysts said.
"Continuing lack of confidence in the economy and a sense that vendors are still over-pricing their homes in some areas means many would-be sellers are sitting on their hands as they take a wait and see approach," said independent buying agent Gabby Adler.