Former employee jailed for 'raid' on Motorola secrets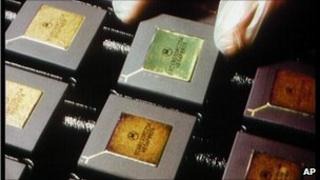 A former Motorola employee has been sentenced to four years in prison for stealing trade secrets worth millions of dollars.
The federal judge in the case said Hanjuan Jin, 41, had carried out a "very purposeful raid" on the US-based company.
Prosecutors said she stole more than 1,000 confidential Motorola documents.
Ms Jin is accused of working for SunKaisens, a technology company affiliated with the Chinese military.
In 2007, Ms Jin was stopped by customs agents at Chicago's O'Hare International airport. She had a one-way ticket to China, $30,000 (£18,964) in cash, Motorola documents as well Chinese military documents.
In February she was found guilty of stealing trade secrets, but was acquitted of the more serious charges of economic espionage.
The judge said it had not been proven that the information in the documents would benefit the Chinese military.
However, in Wednesday's sentencing he said it was important to set a precedent that would prevent others from stealing vital information.
"In today's world, the most valuable thing that anyone has is technology," Judge Ruben Castillo said. "The most important thing this country can do is protect its trade secrets."
Ms Jin, who is a Chinese-born American also has to pay a $20,000 fine and will be subject to supervision for three year after her release.