US consumer spending up 0.4% in July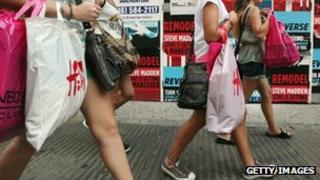 US shoppers spent a little more in July compared with June, according to the US Commerce Department, raising hopes that the country's economy is continuing to recover.
Consumer spending rose 0.4% in July, the largest increase for five months and following no change in June.
The measure is closely-watched as consumer spending accounts for about 70% of US economic activity.
Other figures also showed US citizens earned 0.3% more after tax in July.
On Wednesday, figures showed that the US economy grew at an annualised pace of 1.7% in the April-to-June period.
But economists are warning that the economy will have to grow much faster if unemployment - currently at 8.3% for July - is to stop rising.
The US Federal Reserve has kept base interest rates at close to zero for nearly four years and pumped $2.3 trillion into the economy.
But speculation is growing that further stimulus measures will be introduced when policymakers meet on 12-13 September.
Fed chairman Ben Bernanke is due to speak at a conference in Jackson Hole, Wyoming on Friday, and commentators will be scanning his comments closely for clues to future policy.