Vivendi plans to cut jobs and costs amid price war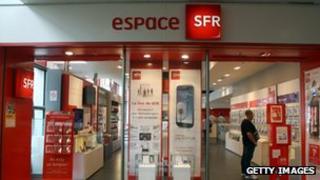 French media and telecoms giant Vivendi has said it will cut costs, including jobs, as it reported a drop in second-quarter net profits mainly due to its struggling telecoms unit.
Net profit fell 46% to 619m euros ($777m; £490m) on revenue down 1.5% to 6.96bn euros, a statement said.
Vivendi said it would cut costs by 500m euros by late 2014 to cope with weakness at its SFR phone business.
Investors welcomed the announcement, sending its share price 3.4% higher.
Sales at SFR fell by 7.5% from the first quarter to 2.8bn euros, due to a price war with competitors including rival Iliad's 'Free Mobile' service which offers cheaper prices and simpler tariffs.
"We are suffering from the price reset in the French mobile market," said chief financial officer Philippe Capron. "We have to adapt to the new reality."
The cost cuts would come from voluntary redundancies and other cost-saving efforts in procurement, marketing, and information technology, he added.
But he quashed recent speculation that the group would have to sell off some of its businesses, including video games maker Activision Blizzard and Brazilian telecoms arm GVT. Activision Blizzard, behind the World of Warcraft (WoW) game, recently said the number of subscribers was at its lowest level since 2012.
"We feel a necessity to move vis-a-vis our shareholders, but this is not 2002, we don't have to sell anything or do anything immediately," said Mr Capron, referring to a decade earlier when the group narrowly avoided bankruptcy by selling off assets.
Vivendi's former chief executive Jean-Bernard Levy announced his resignation in June "following a divergence of views on the strategic development of the group". He was replaced by the company's chief lawyer Jean-Francois Dubos.
Vivendi's shares have been at a nine-year low this year.
Carrefour losses narrow
Separately, Georges Plassat, the chief executive of French retail group Carrefour, has suggested further reductions in expenses as the group reported a narrowing in half-year losses.
The group said net loss declined to 31m euros from a loss of 249m euros in the first six months of 2011. Revenue rose 0.9% to 38.83bn euros from a year earlier. Carrefour's share prices jumped 11% to 15.4 euros.
Mr Plassat's suggestion came a day after the retailer announced it would cut 600 jobs in France.
Europe's largest retailer has been hit from sluggish demand in Europe where government austerity measures have hurt household consumption. Carrefour has also struggled against nimbler rivals such as online retailers and a growing demand for specialist stores.
Dubbed "Georges the cleanser" for his aggressive cost-cutting strategy, Mr Plassat said that he would continue to cut waste and streamline operations. Carrefour recently pulled out of Greece and said it would close two stores in Singapore by the end of the year.
But the two factors were not included in the latest earnings report - had Carrefour included them, the net loss would have amounted to 230m euros.
"We're keeping the mature countries, we're going to defend them, other important countries are Brazil and China," said Mr Plassat. "In certain countries, like Poland, we could adjust our positions. In Indonesia and Turkey, we're considering what to do."
Auchan earnings
Rival Auchan has said its net profit fell by 30% to 237m euros in the first half of 2012, and warned about continued uncertainty in the the eurozone. Sales rose by 5.5% to 22.4bn euros.
Chief executive Vianney Mulliez said that "the perspectives for the second half remain worrying in the eurozone".
Auchan, which now makes more than half of its sales outside its home market in France - a dozen new shops are opened each year - recently announced a franchising deal that will rebrand 13 Max Hypermarkets in India as Auchan.