Sharp downgraded to 'junk' by Standard & Poor's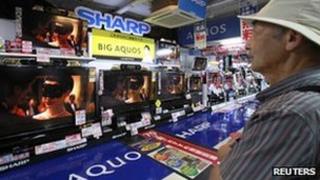 Sharp, the struggling Japanese consumer electronics giant, has had its credit rating cut to "junk" status by ratings agency Standard & Poor's.
The move follows Sharp's announcement that it had lost about $1.76bn (£1.12bn; 1.41bn euros) in the April to June quarter.
S&P downgraded Sharp two levels to BB+, warning that the company was suffering from weak cashflow and "deteriorating" market condtions.
Sharp shares plunged 13% on Friday.
When a company's bonds are rated as "junk" it means some institutions will no longer invest in them.
Merger speculation
The Osaka-based maker of flat-screen TVs, liquid crystal display (LCD) panels and the Aquos brand of consumer electronics, is negotiating a tie-up with Taiwan's Hon Hai Precision Industry, owned by Foxconn Technology Group.
Under the terms of the deal Hon Hai would pump about $800m into Sharp in return for a near 10% stake in the company.
Hon Hai makes products for iPhone and iPad maker Apple in China and already co-owns an LCD plant with Sharp in western Japan.
But investors are frustrated that the deal has not yet gone through amid growing speculation that it may not happen at all.
Adding to Sharp's woes are reports that it has fallen behind in the mass-production of screens for Apple's new iPhone 5, expected to launch in September.
S&P warned that its credit rating for Sharp could fall further if the company's earnings and cashflow did not improve as expected in the second half of the 2012 financial year.
The ratings agency is also assuming that the Hon Hai deal comes off and that Sharp manages to renegotiate its debt successfully.
Both of these outcomes are uncertain.
Sharp has embarked upon a major cost-cutting drive that could see it cutting 5,000 jobs - around 15% of its workforce.