Nomura Holdings in $1bn cost-cutting move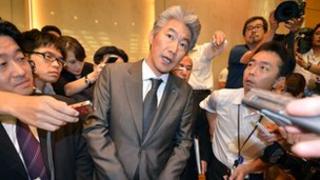 Japan's biggest brokerage, Nomura Holdings, has unveiled a plan to cut a further $1bn (£630m) in costs in an attempt to streamline its business.
The bank said it would make cuts to its equities and investment banking units, mainly at its overseas operations.
The firm has struggled since picking up some of Lehman Brothers' units after the latter's collapse and has also been hurt by an insider trading scandal.
This is the second such move by Nomura in less than a year to cut costs.
It had announced a similar plan last year, also aimed at cutting $1bn in costs.
U-turn?
Nomura took over the non-US operations of Lehman Brothers in 2008, in what was then described as a "once-in-a-generation opportunity".
But the move did not yield the desired results and Nomura has faced a number of challenges trying to streamline the business.
Earlier this year, it reported net profit in the April-to-June quarter of 1.89bn yen ($24.19m; £15.60m), a 89.4% drop from a year earlier.
That was despite a 12% jump in revenue.
Amid a drop in profits and an uncertain global economic environment, the bank is now looking to cut back on its global operations.
Its operations in Europe, Middle East and Africa will account for 45% of the cuts in its latest restructuring initiative.
Meanwhile, the units in the Americas will see costs cut by 21%, Asia outside Japan by 18% and Japanese operations by 16%.
However, Nomura did not disclose how many jobs will be cut as part of the overhaul.