Safran fined in Nigerian bribery case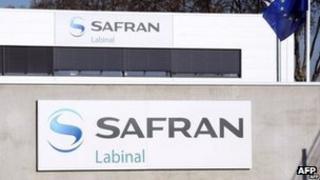 A French defence company partly owned by the state has been fined by a French court for having paid bribes to secure business in Nigeria.
Safran, known as Sagem until it merged with competitor Snecma in 2005, received a fine of 500,000 euros for paying the bribes.
The company said that it would appeal against the decision.
A Paris court found that Sagem endorsed bribes of between 22,000 and 36,000 euros between 2000 and 2003.
It found that Sagem had paid the bribes to Nigerian officials to secure a contract worth $214m to produce national ID cards.
But the court acquitted two former Sagem executives, Jean-Pierre Delarue, a sales manager with the company in Nigeria at the time, and Francois Perrachon, who was its director for identification systems based in Paris, of wrongdoing.
That led to Safran's lawyer Francis Teitgen calling the ruling "amazing", because none of its senior management were prosecuted on the charges.
Safran is 30%-owned by the French state.
In announcing that it intended to appeal against the fine, Safran added that it was "deeply attached to the strict respect of anti-corruption rules".