Currys and PC World owner Dixons sees sales growth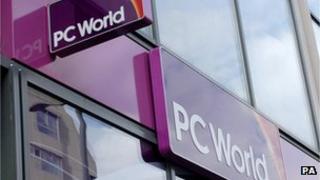 The company behind the PC World and Currys chains, Dixons Retail, has reported a further improvement at its UK and Ireland operations.
Like-for-like sales, which exclude new stores, rose 5% in the 12 weeks to 21 July, while total sales rose 2%.
The figures were held back by the continuing trading downturn in debt-laden Greece and Italy.
Dixons' shares, up 3% in early trading, have risen sharply this year amid investor confidence about the future.
The High Street is suffering because of the squeeze on consumer spending that has hit rivals like Comet and Argos.
But Seymour Pierce analyst Kate Calvert said: "Like John Lewis, Dixons has benefited from market consolidation in the UK with the change of ownership certainly weakening Comet's performance further and we expect this benefit to continue."
In the UK and Ireland like-for-like sales rose 7%, and were 13% up in the rest of northern Europe. In Greece, Italy and Turkey, sales fell 10%.
Despite the growth in key markets, Sebastian James, chief executive, said: "August has proven to be quieter across the retail sector in some of our markets and we continue to be cautious about the outlook."
However, he said that the launch of Microsoft's Windows 8 software and several new products coming to the market over the coming months should underpin trading.