'Efficient' heating system left families with big bills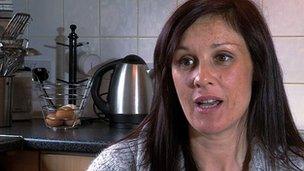 Families living in new government-funded affordable housing have told BBC's Rip Off Britain the heating system used in their homes is costing up to four times more than expected.
The "exhaust air source heat pump" works by taking the heat from waste air leaving the house and pumping it back in to provide heating and hot water.
Manufacturer NIBE claims their system is both "effective and economic".
But residents say they are forced to choose between food and keeping warm.
Sam Claussen lives with her family on an affordable housing estate in St Neots, Cambridgeshire. She said: "We have small children who deserve to be warm and have hot water.
"That's not something I have always been able to provide for them, and that's not right."
The Energy Performance Certificates which accompanied the new properties, estimated electricity costs for heating and water to range from £400 to £500 each year. But hundreds of families on housing estates throughout the UK have paid three to four times that amount.
"When our first electricity bill came through for £252, and that was for just under two months, we were horrified," said Sam.
As the bills continued, she found herself owing £1,500 to her energy supplier.
"It became absolutely clear that this system was far from economical and was costing a fortune to run," she said.
Other residents on the 160 acre estate were also facing tough choices. Their homes had been fitted with the heating system and they too were facing huge energy bills.
"I've ended up in tears on the phone to my electricity company when they're saying, 'You've got to pay this,' and I'm saying I physically can't," said Danielle Tarrier.
The housing association was so concerned about the effect this was having on the residents that it paid more than £45,000 to help them with their high bills.
The heating system has become a popular choice with developers, who are now legally obliged to make new-build houses more "green".
In the system's user guide, Swedish manufacturers NIBE say it is designed to run 24 hours a day which is "the most efficient and cost effective way to heat a home".
But independent heating engineer Geoff Morgan, who surveyed the system, believes the main pump is not big enough to heat most UK homes, which are often not as well insulated as homes in Sweden.
The system can switch to a back-up electric immersion heater when it needs to, but this leads to much higher bills.
"When these are used in Sweden the heat losses of the houses are much, much less. The heat pump does a much bigger job and the immersion heater does a very small amount of topping up," said Mr Morgan.
Rip Off Britain has heard from residents on a further 13 estates across the UK who all report the same problems.
At a 69 house estate in Runcorn, concerns about the effectiveness of the system - thought to be in 15,000 UK homes - have led it to it being replaced at a cost of £145,000.
Manufacturers NIBE say while they are "concerned to hear about individual cases where consumers are unhappy", they believe problems are "almost always due to poor specification, installation or maintenance, and not the systems themselves".
They insist they have never sold the system "on the basis of cost" and there is "independent research demonstrating the efficiency and effectiveness of this system in the UK".
Related Internet Links
The BBC is not responsible for the content of external sites.