Glencore tables fresh Xstrata bid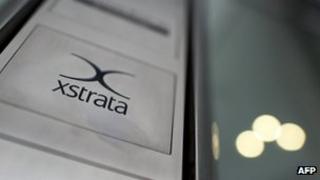 Mining firm Xstrata has received a fresh takeover proposal from Glencore that contains a compromise to meet the demands of a key investor.
Glencore raised its offer to 3.05 of its shares for each Xstrata share, from the 2.8 previously offered.
Qatar Holding, which owns about 12% of Xstrata, had said it would block the merger as it wanted a ratio of 3.25.
However, Xstrata's independent directors have queried the new bid and are asking for more information.
'Fundamental change'
Glencore has proposed that its chief executive Ivan Glasenberg should lead the merged entity instead of Xstrata's boss Mick Davis, who would have been the new chief executive under the old terms.
Under the old deal, Mr Glasenberg would have become deputy chief executive of the new business.
In a statement, Xstrata's independent directors said the new proposals represented "a fundamental change to the governance structure which underpinned the agreed merger of equals" initially announced in February.
They said the new offer "lacks sufficient information on key elements" and have asked for more detail in order to decide "whether it would represent a takeover" rather than a merger.
They added that the plan to make Mr Glasenberg the chief executive of the merged business put at risk the ability to retain other senior managers who, in the original deal, were to become directors of the new company.
In addition, they said the new ratio of Glencore to Xstrata shares on offer represented a premium "significantly lower than would be expected in a takeover".
Shareholder reaction
Richard Buxton, head of UK equities at investment house Schroders, which is an Xstrata shareholder, said Glencore's new offer still undervalued the firm, saying he was "not particularly enthused".
Mr Buxton said an offer of 3.5 Glencore shares for each Xstrata share would be appropriate, but that he would have accepted 3.25 as proposed by Qatar.
"We would still oppose but the Qataris are the kingmakers," he said.
But David Cumming, head of equities at pensions group Standard Life, which is also an Xstrata shareholder, said he supported the improved terms.
"The deal will, we believe, enhance the growth prospects of the combined group and consequently, as shareholders both of Xstrata and Glencore, we are pleased with the proposed outcome," said Mr Cumming.
Mr Glasenberg had previously rejected Qatar Holding's demands to improve terms ahead of the proposed merger, originally valued in February at $90bn (£56bn).
"We cannot understand the position of the Qataris, asking for more than the 2.8 ratio. We have seen nothing coming out of recent results that supports this, in fact we have seen quite the opposite," Mr Glasenberg said in August, adding that it was "not a must-do deal".