Intel cuts its sales forecasts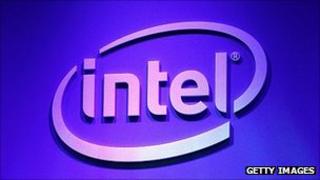 The world's largest maker of computer chips, Intel, has cut its three-month sales forecast and withdrawn its full-year predictions.
The company said that reduced demand for computers from individuals and businesses was hitting its revenue.
It now expects third quarter revenue of between $12.9bn and $13.5bn (£8.1bn to £8.4bn) down from its previous estimate of $13.8bn to $14.8bn.
That sales forecast had already been cut in July.
Intel does not publish profit outlooks, as a rule, but has warned that it may also make less money on each chip sold.
The company said its profit margin could be below the 63% originally forecast.
Williams Financial Group analyst Cody Acree said the downgrade had been inevitable: "Everybody up and down the food chain has been saying this. Intel was one of the last hold-outs."
Global sales of personal computers have been sluggish this year as firms and households put off new purchases in the uncertain economic climate.
Increasingly, PCs are being supplanted by tablet computers which use NAND or flash memory chips rather than hard discs found in desktop and laptop computers.
Intel has succeeded in taking a share of the NAND chip market, but faces competition from market leaders in the sector including Samsung and Toshiba.
In July, Toshiba announced it would cut production due to a glut of NAND chips which has also depressed prices and profits on the global market.