Japan revises down growth numbers for second quarter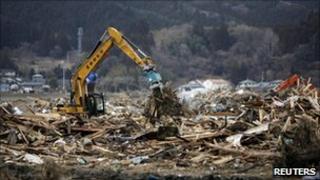 Japan has revised down its growth numbers for the second quarter, raising concerns about a slowdown in the world's third-largest economy.
The government said that economy grew at an annual rate of 0.7% during the April to June period. That is down from its earlier estimate of 1.4%.
Compared with the previous quarter, the economy grew by 0.2%, also lower than the previous figure of 0.3%.
Slowing exports and subdued domestic demand have hurt Japan's growth.
"This is a very significant revision. It means that overall production and investment in Japan was lower than the government had previously estimated," Martin Schulz of Fujitsu Research Institute told the BBC.
"As a result, the economy is slowing much faster than expected."
Further slowdown?
Japan's economic growth has been impacted by both international and domestic factors.
The export sector, one of the biggest drivers of growth for Japan, has been hurt by slowing demand from key markets such as the US and eurozone.
At the same time, growth in Asian countries, such as China and India, which had been faring better than western economies after the global financial crisis, has also slowed further hurting the sector.
Analysts said that this weakness in exports has had a knock on effect on corporate investment and dented growth.
"Asia, China in particular, is the most important market for Japan right now," said Mr Schulz of Fujitsu Research Institute.
"The slowdown there is having a negative impact, not just on Japanese growth but also on business sentiment and corporate investment in the country."
To make matters worse, domestic demand in Japan has not risen enough to offset the decline in foreign sales which has hit corporate morale.
Mr Schulz warned that given these conditions "Japan's growth may even turn negative in the current quarter".