South Korea gets $5.2bn stimulus boost as economy slows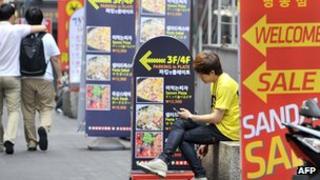 South Korea has unveiled a fresh $5.2bn (£3.2bn) stimulus package, in a bid to boost domestic demand as a slowdown in exports continues to hurt its economy.
The package will include tax breaks on personal incomes and purchases of homes and cars.
South Korea's exports, which account for almost half its economic output, have been hurt by slowing demand from the US and eurozone.
Last week, Seoul said that its second quarter growth had missed estimates.
Finance Minister Bahk Jae-wan said that global economic conditions continue to remain uncertain, impacting Korea's growth.
"The fiscal crisis in Europe is continuing for a longer period than expected and the simultaneous slump in the advanced and emerging economies is continuing," he said at a policy meeting.
The package follows a $7bn boost announced by the government in June this year.
Too little, too late?
South Korea, Asia's fourth-largest economy, has been one of the worst hit by the ongoing debt crisis in the eurozone and a slow recovery in the US economy.
Economic issues in those two regions, which are key markets for South Korea exports, have hurt consumer sentiment and dented demand for Korean goods.
According to the Bank of Korea, shipments fell 1.4% in the April to June period, from a year earlier.
Slowing global demand and lacklustre domestic consumption have also resulted in firms cutting back their investment plans.
Capital expenditure fell by 7% in the second quarter, from the previous three months, further hurting the economy.
Some analysts said the latest stimulus package was not sufficient to spur growth and was instead aimed at appeasing the citizens ahead of presidential elections later in the year.
"I expect a lot of this is just pure politics, just trying to be seen to be doing something," said Erik Lueth, a regional economist at Royal Bank of Scotland.