German firms question eurozone's value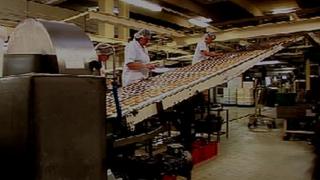 It is late in the evening in downtown Nuremberg.
The last shift of the day is well under way at the Schmidt family bakery, the air heavy with cinnamon and baking smells, as precisely mixed dollops of dough are fed 10 deep into the ovens.
A seemingly endless stream of moist, brown individual gingerbread cakes - Lebkuchen - roll out on the line for cooling.
Many get a generous dousing in nuts or chocolate, before being whisked away on conveyor belts for boxing up.
From July to January, the bakery turns out five million cakes a day.
Paying the bill
It has derived great benefit from Lebkuchen 's protected European Union status.
Yet beyond that, Germany's eurozone membership is currently proving costly for companies like this.
Assuming the courts allow it, a big slug of business taxes from this prosperous area in southern Germany will ultimately go to fund the permanent European Stability Mechanism (ESM) rescue fund.
It is one reason why Chancellor Angela Merkel has to listen to what local business leaders say.
Domestic market
Lebkuchen may be an acquired taste outside the country.
But German customers cannot get enough of this sweet and spicy Christmas delicacy.
They queue outside the factory store at the start of the season, order it online and buy it from pop-up shops and Christmas markets.
With most Lebkuchen sales made in the vast German home market, you might say the company has little to gain from large sums of its tax euros being siphoned off to keep southern Mediterranean countries afloat.
It may be one reason why the German Association of Family Businesses supports the petition against Germany's ESM funding.
The case has become a kind of focus for Conservatives who want the country to change its financial course.
Greek exit
Proudly showing off the latest 11m euros ($14m; £9m) investment in new bakery ovens and equipment, Lebkuchen Schmidt's managing director Thomas Wrede says he has no wish to see the back of the euro.
He wants to build on the company's long-standing success as one of Germany's famed "Mittelstand", or medium-sized family-owned, companies.
He hopes to export more.
But he also believes it may be time to pull the plug on Greece.
"The trouble is that they are missing some general structures," he says.
"As long as you don't install these structures, you will have further problems. If you hand out cash, you have to regulate. You cannot say, 'Take the money and then do what you want'."
'Positive reaction'
Inevitably, perhaps, the more firms sell overseas, the more supportive they seem to be of German measures to keep the euro intact.
One such company is the Playmobil maker Brandstaetter.
It is one of Germany's last remaining volume toymakers. Last year, it sold 55 million toys to customers in nine countries.
Chief executive Andrea Schauer provides some useful insight on why galvanising further bailout support is proving difficult.
"Germans will be more willing to pay when they can see economic improvements in the southern Mediterranean countries for their money," she says.
"What we need is a positive trend. Until then its hard to just see a sharp decline in the economies, and then say, 'Let's go for it.'
"We just need some positive reaction and I hope this will happen in the near future."
German competitiveness
One of the region's oldest established factories is Faber-Castell.
The family firm has made quality pencils at Stein near Nuremberg since 1761, and exports to 100 countries.
So it seems unlikely that the eighth generation of the founding family is likely to be thwarted by a currency crisis.
However, as a fan of the euro, what Faber's chief executive Count Anton Wolfgang von Faber-Castell dislikes is what he sees as pre-election posturing by some regional politicians.
"To say we have to get rid of Greece, well yes, that's easily said," he says.
"But what might come in addition to that? How might investors react? We have to be aware that the German mark is very expensive, so how would we keep our competitiveness in Germany."
He admits his country now faces "lousy options". It is a question of choosing the least worst way forward, so politicians should get a move on, he says.
Dangerous to stop
One man well placed to provide cool analysis of the latest events is Thiess Buettner, professor of public finance at the University of Erlangen-Nuremberg and economic adviser to Chancellor Merkel's finance minister Wolfgang Schaeuble.
Prof Buettner says the main objection to extending the bailouts is that they will discourage indebted governments from making essential reforms.
At the same time, however, the outcome of not maintaining support would be worse, he believes.
"It would be very dangerous to stop these rescue policies," he says.
"That's because capital has been flowing steadily from northern Europe to southern euro countries. If these countries then fell out of the eurozone, this debt would not be serviced any more, and it would mean bankruptcy for large sections of the German economy."
For industry in Southern Germany, the outcome of events this autumn could have a profound impact on their sales and finances.