ThaiBev and TCC in bid for parent of Tiger beer brewer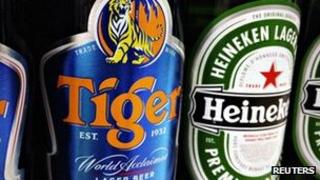 ThaiBev and its partner TCC Assets have made a takeover bid for Fraser & Neave (F&N), the parent of Tiger Beer maker Asia Pacific Breweries (APB).
The group has offered almost 9bn Singapore dollars ($7.3bn; £4.5bn) for the 70% of F&N shares that it does not already own.
The offer could derail Heineken's offer to buy F&N's controlling stake in APB in a 5.6bn Singapore dollar deal.
ThaiBev and Heineken have been battling for control of APB.
Singapore-based F&N said last month that it had accepted Heinken's offer, but the bid is still subject to shareholder approval.
However, ThaiBev, which is F&N's biggest shareholder, has not indicated whether it will support Heinken's bid.
"Given the timing of the offer, it would appear that TCC is likely to thwart the sale of APB to Heineken," Jit Soon Lim, an analyst at Nomura, said in a note to clients.
"One possible outcome is that if TCC is successful in gaining control of F&N, it would want to renegotiate the sale of APB to Heineken."
Break up?
F&N has a very successful food & beverage division, which includes a 40% direct and indirect stake in APB, as well as a presence in the soft drinks market with brands such as 100plus.
The firm has also diversified into real estate and has total assets in excess of of 7bn Singapore dollars. It has developed projects in Singapore, China, Thailand, UK, Australia and New Zealand.
There have been reports of various firms being keen to acquire its real estate division.
Some analysts said that as companies target its various units, the firm may see an eventual break-up of its divisions.
"This process could result in a break up of F&N," said Jason Hughes, head of premium client management for IG Markets.
"We've seen across-the-board interest from the likes of Coca-Cola and Kirin... If they were to take over parts of F&N, it will add more to their portfolio and encourage the expansion of their business here."
He added that the break up would "allow for what might be seen as sensible release of shareholder value, to get the most out of the current structure".