European inflation rises in August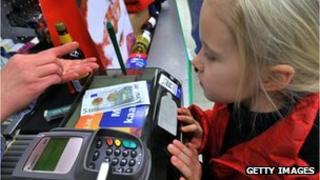 Prices rose faster in August across the 27 nations of the European Union (EU) compared with July, according to official figures.
The EU statistics agency Eurostat said inflation hit 2.7% last month, compared with 2.5% the previous month.
In the 17-nation eurozone, inflation also rose to 2.6% from 2.4% in July.
Figures also showed that the number of people in work across the EU in the three months to the end of June rose to 223.4 million.
Employment across the euro area remained stable at 146.4 million in the second quarter.
The number of people out of work in July hit a record high of 18 million, prompting calls for the European Central Bank to cut the cost of borrowing, pump more money into the eurozone economy or both.
Due to a growing population, it is possible for employment and unemployment to both rise.
However, at 2.6%, the eurozone's inflation rate remains above the ECB's 2% target which could restrict policymakers' choices.