India central bank in lending boost as rates on hold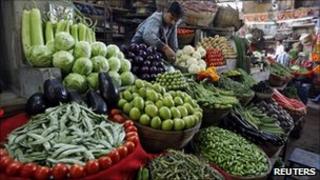 India's central bank has lowered the amount of money that banks need to keep in reserve, in a bid to boost lending and spur domestic demand.
The Reserve Bank of India (RBI) cut the Cash Reserve Ratio (CRR) by 25 basis points to 4.5%.
However, the bank left its key interest rate unchanged at 8%.
The CRR cut, which will inject 170bn rupees ($3.15bn; £1.94bn) into the market, comes as India's economic growth has slowed.
"I think this is a reasonably prudent move, which will add to liquidity in the system," said Gajendra Nagpal, chief executive of Unicon Financial Intermediaries.
Inflation concerns
The RBI was under pressure to lower the cost of borrowing, in order to help ease the burden on businesses and households.
However, analysts said the bank had been wary of the impact of such a move on consumer price growth.
Data released on Friday showed that the inflation rate rose to a higher-than-expected 7.55% in August, from a year earlier. Most analysts had expected the rate to be about 6.95%.
Last week, the government announced a 14% increase in diesel price, a move that is expected to result in a further increase in consumer prices.
Analysts said the RBI's decision not to reduce interest rates shows that the central bank is still concerned about the high inflation rate.
"[The] RBI is fighting a lone battle against inflation. One can argue that inflation still remains stubbornly high and substantial easing is not possible," said Mr Nagpal of Unicon Financial Intermediaries.