House prices: Two-speed housing market persists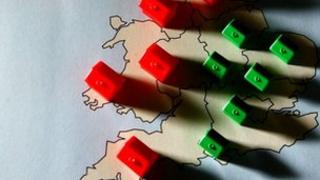 House prices continued to accelerate much quicker in London than the rest of the UK, latest figures show.
UK property prices rose by 2% in the year to the end of July - lower than the rate of inflation - according to the Office for National Statistics (ONS).
However, prices increased by 5.7% in London over the same period, the figures show.
There were price falls in Scotland, Wales and Northern Ireland.
Prices dropped by 1.1% over the year in Scotland, by 0.2% in Wales and by 10.9% in Northern Ireland, the ONS statistics show.
In England, property prices grew by 2.4%, although this was driven by the price rises seen in London.
"Equity rich and cash buyers remain the key players in today's housing market, with lending levels still historically subdued - and this is focusing the main price growth in London," said Peter Rollings, chief executive of estate agent Marsh and Parsons.
In the month from June to July, prices were unchanged in the UK as a whole, the ONS said.