Lufthansa plans new low-cost airline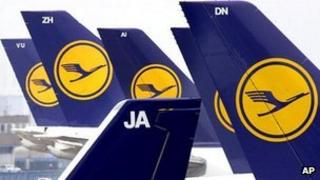 Lufthansa says it will merge many of its European and domestic routes under a new low cost brand as it seeks to boost profits.
The company's flights within Germany and Europe, excluding those from the Frankfurt and Munich hubs, will be merged with its existing low-cost brand Germanwings from next year.
The new service is expecting some 18 million passengers in its first year.
Lufthansa carries more than 100 million passengers a year.
Lufthansa is currently undergoing a 1.5bn euro ($1.9bn; £1.2bn) cost-cutting programme to offset rising fuel costs and tackle competition from low-cost and Gulf carriers.
No name
The airline said there had been no decision on the name of the new service, which will based in Cologne, as yet.
One of the German airline's main rivals, Air France-KLM is also planning to make major changes to its European network, with plans to develop the low-cost airline Transavia.
Lufthansa's decision to reorganise its short-haul routes under the new brand follows a series of strikes by Lufthansa workers over pay and conditions.
Union representatives and the company agreed two weeks ago to begin a formal mediation procedure this week which put an end to the walk outs.
Lufthansa said it was too early to say how much the industrial action had cost it in lost revenue from the 1,800 flights that were cancelled.