Japan exports and imports fall raising growth concerns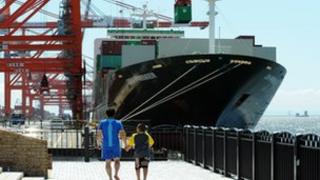 Japan's exports and imports dipped in August, raising fears about the impact of a global slowdown on its economy.
Exports fell 5.8% from a year earlier, hurt by slowing demand from the European Union (EU) and China.
Imports fell 5.4% from a year ago, indicating that domestic demand continues to remain weak.
The data comes amid fears that Japan's trade with China, its biggest trading partner, may be hurt by the continuing territorial dispute between them.
"It is going from bad to worse for the Japanese export sector," Martin Schulz of Fujitsu Research Institute told the BBC.
"Recovery in the US remains weak, the EU crisis is far from over and now the dispute with China could have a negative impact on exports to the mainland in the near term."
'Extremely vulnerable'
Japan's economy relies heavily on exports for growth. However, the sector has been hurt by slowing demand from key markets in recent times.
Shipments to the EU have now fallen for 11 straight months, as the region's debt crisis has hurt growth in the bloc's major economies.
And with the end to the crisis nowhere in sight, most analysts expect the downward trend to continue.
To make matters worse, economic expansion in China, the world's second largest economy and key driver of Japan's growth in recent years, has also slowed, further impacting Japan's export sector.
Shipments from Japan to China have dropped in 10 out of the past 11 months.
Analysts said that slowing growth in China was likely to further dent the sector.
"Japan is extremely vulnerable to the slowdown in China," said Dan Slater of the Economist Corporate Network in Tokyo.
"And the slowdown in China is very serious in itself."
Mr Schulz of Fujitsu Research Institute added that the slowdown in export growth was resulting in many firms holding back their expansion and investment plans.
He said such moves were further impacting Japan's economic growth.