Adidas cuts Reebok sales target by a third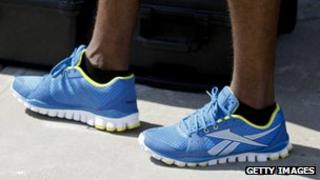 Adidas has slashed sales targets for its struggling Reebok brand by a third.
The loss of a contract in the US and fraud uncovered in India meant Reebok's sales by 2015 would reach about 2bn euros (£1.6bn), not 3bn euros as hoped.
Adidas, number two behind Nike in the fiercely competitive sportswear market, bought Reebok in 2005 for $3.8bn (£2.3bn; 3bn euros).
However, Adidas said that group-wide sales were still projected to reach 17bn euros by 2015 as already forecast.
The German company said sales at Reebok fell 26% in the second quarter of the year, and annual revenue is expected to fall from 2011's 1.96bn euros.
In contrast, sales at the Adidas group are forecast to rise by nearly 10% in 2012.
Adidas chief executive Herbert Hainer has said that Reebok needs to come up with new product lines.
On Thursday, the former managing director of Reebok India, Subhinder Singh Prem, and ex-chief operating officer Vishnu Bhagat, were arrested in connection with a fraud case.
They are alleged to have indulged in fictitious sales and fudging of company accounts.
In April, Adidas said it had uncovered "commercial irregularities" at the India division.