Hard times for Mr Osborne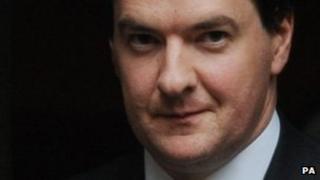 The governor of the Bank of England seemed to let George Osborne off the hook on Thursday night, in his TV interview for Channel 4, when he said it would be OK for the chancellor to miss his debt target because of slow economic growth.
Mr Osborne will be glad for the support, even if critics will say the Bank governor should not be publicly opining on fiscal policy. It's fair to say the chancellor's not getting much help from anyone else - or the UK economy.
Today's August public finance numbers are a case in point, with another record amount of borrowing for that month. So far the deficit is running more than 20% higher than last year and well above the Office for Budget Responsibility forecast. This is getting increasingly difficult to explain with "special factors". (The big special factor this time - sales of Olympic tickets - meant more money for the Treasury, not less.)
We're used to hearing Labour politicians say that the coalition's deficit policies have failed. But lately, many others have been saying the same thing.
Here's the basic problem, neatly summarised in the opening paragraphs of a recent report by the Centre for Policy Studies (CPS).
"The Coalition came into office in 2010 with the stated aim that it would eliminate the current structural deficit within five years and stem the increase in public debt as a proportion of GDP. The Coalition is not achieving these aims."
As the CPS point out, both the prime minister and the chancellor like to boast that they have cut the overall budget deficit by a quarter. But that is not the borrowing target the coalition set itself.
The central target was to eliminate the current structural deficit - that's the borrowing which is not for investment and not expected to go away naturally - with economic growth.
That measure of borrowing has fallen by only 13% - or roughly an eighth - since the coalition came to power, from 5.3% of GDP to 4.6% of GDP. That is a much worse sound bite for Prime Minister's Questions.
You might labour under the misapprehension that government spending has been "cut" (as the CPS highlight in their note - many do). It hasn't. It has continued to rise in real terms, in large part because debt interest payments have risen. The fall in the overall deficit has been entirely due to cuts in capital investment and increases in taxes.
"You don't need to be Keynesian", say the authors, "to think these would be more damaging to growth than front-loading current expenditure cuts." (In case you were wondering, the Centre for Policy Studies was co-founded by Margaret Thatcher.)
What went wrong? Well, we know that growth has been much slower than expected and - crucially, for the government - the OBR decided, in the last Autumn Statement, that we were not going to get back a lot of the output we had lost.
As I explained at the time, that one decision almost took the government back to square one when it came to cutting the structural deficit.
Public sector pay
But there's more to this story - described in painful but fascinating detail by Brian Reading in a new report for Lombard Street Research. Among other things, Mr Reading is a former economic adviser to Ted Heath and ex-Economics Editor for the Economist.
The funny thing is, if you look simply at the spending side of the ledger, the coalition has been strikingly successful: public expenditure in 2011-12 came in £5bn lower than planned.
That undershoot was largely due to lower-than-expected spending on social security payments, which departments cannot easily control (though the Secretary of State for Welfare and Pensions would say he has helped to keep unemployment down.) But ministers have also over-delivered when it comes to squeezing administrative budgets. These have been cut by more than 40%, not a third, as Mr Osborne planned.
As Mr Reading notes, this cut helped make possible a £17bn increase in non-administrative spending, which sounds like good news for front line services.
So, you can see why Mr Osborne might be feeling rather put-upon.
On the face of it, the coalition has more than delivered on spending restraint, while allowing extra funds to flow to the "frontline". Yet the right are lambasting the chancellor for failing to cut spending, and the newspapers are full of stories of core public services being squeezed.
Oh yes, and he's in danger of missing key fiscal targets, and borrowing so far this year has been higher than in 2011-12. What gives?
The answer, in a nutshell, is public sector pay and tax revenues.
One reason we haven't noticed the "extra" money flowing to the front line is that it has been swallowed up by pay rises, which, in turn, have meant much, much bigger-than-expected cuts in public sector employment.
Since 2010, the number working in the public sector has fallen by 300,000 more than the Office for Budget Responsibility predicted. Why? Because pay has risen three times faster than expected - by 9% instead of 3%.
But wasn't there a pay freeze, you might ask? Yes, but as the Financial Times reported recently, at least six government departments, plus the NHS, the Police and the Armed Services, have been unable to impose it.
Many civil service contracts require annual pay increases for staff, in line with their seniority and length of service. In most cases, departments decided those legal requirements trumped the freeze.
With such a massive overrun in pay, the only way to meet the cash spending plans was to cut numbers instead. Two-thirds of the losses have been in local government - which helps explains why many people feel their "frontline services" are indeed being cut.
Brian Reading cites the example of Devon and Cornwall police, which recently admitted it had investigated only 34% of reported crimes in 2011 - down from 40% in 2010. The chief constable blamed the loss of 700 officers.
Likewise, the National Audit Office has found that "the UK border agency has so far cut personnel by 1,000 more than planned as part of the programme to save £350m between 2011-15." Rightly or wrongly, many of us will feel we have seen the consequences of that this summer.
Poor design?
Mr Reading believes the failure on public sector pay speaks to a general failure to focus on the right things in designing the deficit strategy. Like most economists, he believes the coalition should have thought more about the impact on growth in thinking about where to cut. (Note we are talking about how to distribute the pain, here, not whether to have it all.)
He is particularly damning of the coalition's decision to go along with Labour's planned one-third cut in net public investment over five years. As he notes, this was always a bit strange, given that borrowing for investment was explicitly excluded from Mr Osborne's deficit target.
"If the government had believed its own fiscal mandates, it would have cut capital expenditure less quickly or even increased it to offset the damage from current spending cuts. Neither the current budget balance nor net debt would have been increased."
Mr Reading says the poor design of the plan contributed to its own failure by needlessly hurting growth. Mr Osborne would disagree. So, perhaps, would Sir Mervyn King.
But there is no argument that slow growth has hit tax revenues - and that, in turn, has almost certainly led to a situation in which Mr Osborne is either going to have to abandon his promise to have the stock of debt falling in 2015, or announce fresh spending measures or tax rises for the next two years.
The original plans had tax revenues rising nearly £70bn in the first two years of the programme, public investment falling £20bn, and public spending rising by around £50bn. In fact, both investment and current spending have come in below target, as I mentioned earlier. But by April of this year that had been more than outweighed by a £14bn shortfall in revenues.
As a result, overall borrowing in 2011-12 was nearly £10bn higher than hoped. And, as we have seen in these latest public finance figures - the trend so far this year has been in the wrong direction.
These are the hard realities, which will almost certainly look worse in the December Autumn Statement.
The IMF doesn't want Mr Osborne to react by announcing more tough medicine to meet his debt target. Nor, apparently, do many in his own party.
Now Sir Mervyn King has told him he does not have to. No doubt, the chancellor is relieved to hear it. But he'd be forgiven for also feeling pretty depressed at the reaction he is getting to the first two years of Plan A.