Town centres 'must adapt to online shopping'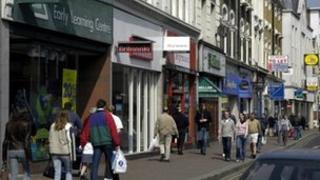 Town centres will need to market themselves as convenient hubs for picking up products ordered online if they are to thrive into the next decade, a report says.
The report from research group Experian says retailers will have to cope with more people shopping online.
At the same time, they must cater for an ageing population, it adds.
It calls for them to focus on face-to-face service and opportunities for socialising and leisure activities.
Experian predicts that in 10 years' time there will be three million more people in the UK over the age of 70.
In order to thrive, town centres will need to offer the kind of facilities valued by older people, such as health services, and safe and accessible shopping areas.
Convenience
James Miller from Experian said High Streets and town centres had "a careful balancing act to play".
"They must fulfil the modern need for convenience and value of those with increasingly limited resources and incomes, but not to the detriment of quality and service sought by older and more affluent consumers," he said.
"At the same time they need to embrace technology to enrich the shopping experience by combining online shopping with the often more convenient option of collecting goods in the town centre."
More shops will need to adopt "click and collect" and retailers should embrace mobile commerce and social media to develop their online presence.
Regional variation
The report highlighted differences between regions, illustrated by data from a range of named towns.
By 2020, town centres in the East Midlands, the east, south-east and south-west of England will have the highest growth in their over-50 populations.
Some 51% of town centres in the East Midlands will have a high proportion of older consumers; the report particularly mentions Sleaford, Grantham and Swadlincote.
While the increase in technology and social media will have an impact everywhere, the East Midlands, the east, the north-west of England and Yorkshire and the Humber will have the greatest proportion of online shoppers by 2018.
"In many cases, these shoppers are from hard-pressed and rural consumer groups that are looking for both the choice and value that online offers," the report said.
It also said three new consumer groups with reduced disposable incomes would emerge, creating thriftier shoppers and heavily influencing the health of town centres.
These are:
the "squashed bottom" - made up of hard-pressed singles and families, prevalent in Yorkshire, the north-west and north-east of England
struggling elderly singles and couples - particularly in Merthyr Tydfil, Treorchy and Abertillery in Wales, Motherwell, Irvine and Coatbridge in Scotland, and the north-east of England
the "squeezed middle" - middle-to-lower income families, found primarily in Llanelli, Pontypool and Cwmbran in Wales, the East Midlands and the north-west of England
The report was prepared in partnership with the Association of Town Centre Management.