Pawnbroker Albemarle and Bond to slow expansion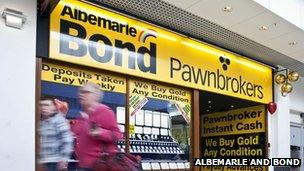 Pawnbroker Albemarle and Bond has said it will open fewer new stores this year due to worsening market conditions.
It plans to open just five this financial year, compared with the 25 it opened in the 2011-12 financial year. The chain currently has 234 outlets.
This is largely down to lower profits on buying second-hand gold, which were well down on their peak, the firm said
Pre-tax profits for the year to the end of June were up 2% at £21.4m. Its dividend is unchanged at 9.75 pence.
Reading-based Albemarle said it expected lower profits for the coming year, due mainly to lower returns from gold buying.
This knocked its shares, taking 13% off their value, so that by lunchtime they were trading at 257 pence per share.
The company, which buys gold at its High Street shops, online and through 50 pop-up stores in shopping centres, said there had been a "sudden slowdown" in gold buying in recent months.
Gold prices are no longer growing as fast as they were and the number of consumers wanting to sell gold items has waned.
Profit margins on gold-buying were still above 30%, Albemarle said, but they were well below the 87% peak seen earlier in the financial year.
Albemarle said it did not expect to see such profit margins again, but predicts gold buying will continue to be a major part of its business.
"The expected downturn in the gold buying market happened very quickly and has set a new level to which we have quickly adapted " said chief executive Barry Stevenson.
Analyst Nick Bartram at Peel Hunt suggested that rival pawnbroker H&T had coped better with the change, however.
"The fact that H&T anticipated this way before A&B has, in our opinion, not helped credibility," Mr Bartram said.
Albemarle has more than doubled in size in the past three years, thanks largely to the boom in buying second-hand gold.
Looking ahead, it expects to offer more short-term loans as the squeeze on household incomes continues.
As part of that strategy, it has bought an online provider, the Early Pay Day Loans Company, for £1.2m.
Albemarle's results reflect what is happening across the industry, according to Ray Perry, chief executive of the National Pawnbrokers Association.
"People had every incentive to sell their scrap gold and jewellery while the price was high," he told the BBC.
"The price has started to flatten off... which makes people think there is no hurry now. A lot have also already sold their unwanted necklaces and so on."
As a result, he expects companies like Albemarle to go back to the "good old-fashioned" business of pawnbroking, which offers loans secured on assets ranging from jewellery to cars. The assets are returned to customers once the loan is repaid.
"Pawnbroking started to rise before the banking crisis and will continue to do so," Mr Perry said, citing how hard it is for some people to get bank loans.
"People are asking 'what do I actually need?' in the current economic climate. They are wanting to free up cash from assets.
"The average loan is about £150 and tends to be jewellery. People are saying, I can manage without my ring for three weeks, but in the meantime I have a gas bill to pay," Mr Perry said.
The value of loans lent by pawnbrokers has grown 15% in the past year to £1bn, he said, as more new customers, including small businesses and "middle-class" customers started to use their services.
Related Internet Links
The BBC is not responsible for the content of external sites.