McLaren unveils P1 supercar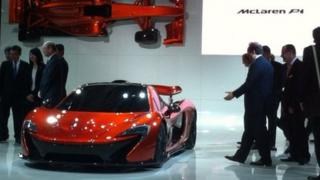 Like a child playing king of the castle, Ron Dennis is on top of the world.
The executive chairman of McLaren, the British Formula 1 racing and technology group, is positively buzzing, and so is the entire hall as he unveils the company's £800,000 ($1.3m) P1 supercar.
The crowd of hundreds of journalists and industry executives from rival carmakers make the whole event resemble a rock'n'roll gig.
And Mr Dennis owns the stage.
"We strive for perfection," he declares. "Our real DNA is about this constant search for perfection."
Ferrari rival
As a flagship model for Woking-based McLaren Automotive, the P1 brings its product range to three - in addition to its 12C coupe and 12C spider.
An entry-level McLaren that is expected to cost a tenth of the P1's price and go head-to-head with cars such as Porsche's 911 is expected in a year or two.
The carmaker has even designed a concept car to order for an anonymous customer, dubbed the X-1 and shown earlier this year.
When compared with mass-market carmakers, that may not sound like much.
But in the world of supercars it is a clear indication that McLaren could one day emerge as a serious rival to Ferrari, on the road as well as on the Formula 1 race track.
"It's not our ambition to be bigger than Ferrari," says McLaren Automotive's managing director, Antony Sheriff, suitably modest given that McLaren currently sells some 1,500 cars per year while Ferrari sells about 7,200.
"But it is our ambition to build up a product line of a certain size," he tells BBC News in an interview. "It will become broader."
'Maybe one day'
Initially at least, McLaren's model range will be limited to mid-engined sportscars.
The carmaker has no plans to start making, say, front-engined cars with four seats to rival models such as the Ferrari FF, Mr Sheriff says.
But of course, it is possible to dream.
"Maybe one day," Mr Sheriff says, "after we've established the brand, and we have this line-up of cars, and we're really successful, and we have money that we want to invest to grow the brand, then maybe we'll do something different.
"But if we do it, it'll have to be the best in the world."
Racing spirit
In the 1990s, McLaren did build a car that was widely hailed as the best in the world - or at least, the quickest.
In 1998, its three-seater F1 model was driven at 242.9mph, earning it the record as the fastest car in the world.
According to Mr Sheriff, the P1 is a worthy heir to the F1 crown.
"They're both cars which come from the same spirit, but they're cars that are very, very different," he explains.
"The F1 at the time brought an enormous amount of Formula 1 technology around the structure of the car - carbon fibre. It was a car that was significantly faster than anything else out there," Mr Sheriff recalls.
"P1 also moves the technology game far, far forward, but does it in a way that's different."
On and off the track
Having penned the P1, McLaren's design chief Frank Stephenson is full of praise for the techies behind the car.
"These guys aren't car engineers, they're racing engineers," he grins.
"To them, everything is possible."
With access to McLaren's toolkit, the engineers have put together a light-weight and very strong carbon fibre "mono cage" that wraps around the driver, clad in a thin carbon fibre skin that has been shaped in the company's own wind tunnel to improve aerodynamics and natural air cooling qualities.
The result is a very light car built to perform on the track while also being a comfortable drive on the road.
"Our aim is not necessarily to be the fastest in absolute top speed, but to be the quickest and most rewarding series production road car on a circuit," says Mr Dennis.
The car on show in Paris is a near-complete "design study", so final details about its engine and other technologies will not be revealed until March, at the Geneva motor show.
But already there is speculation that the car might come with some sort of petrol-electric hybrid system to improve efficiency, and thus curb carbon emissions and fuel consumption.
All of which sounds phenomenally expensive, raising the question: Is the automotive division a vanity project funded by McLaren's racing and technology divisions?
Mr Sheriff insists it is not, pointing to a corporate structure where the automotive division is an independent company.
"We do need to be profitable," he says. "We do need to wash our own face."