Lucky money goes under the hammer at Bank of England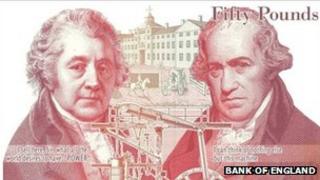 Cash made money for charity as interest from banknote collectors in East Asia helped push up the bidding at a Bank of England auction.
One £50 note was sold for £820 in the auction because it had the serial number AA01 000888.
Early serial numbers on new notes are popular among collectors and the number eight is considered lucky in many countries of East Asia.
The auction raised more than £50,000 for charity, the Bank said.
The amount raised was much higher than the pre-sale estimate of £33,000.
The proceeds will go to the British Association for Adoption and Fostering, and the Kids Company.
'Flourishing'
The auction was run by specialists Spink, which waived commission for the auction.
Auctioneer Barnaby Faull said that banknote collection was a relatively new hobby, but was "flourishing" among enthusiasts.
In November, a £50 note with a new design featuring Matthew Boulton and James Watt - and the signature of the Bank's new chief cashier Chris Salmon went into circulation.
The banknote with serial number AA01 000001, as with any first issue note, goes to the Queen, with the second presented to the Duke of Edinburgh.
Collectors then scramble to buy the notes with the lowest serial numbers. At the auction, a £50 note with serial number AA01 000013 went under the hammer and was sold for £700.
Meanwhile, two uncut sheets of £50 notes, with 35 notes on each sheet, fetched £5,500 and £3,900. The face value of the notes on each sheet was £1,750.