Financial services sector cutting jobs, says CBI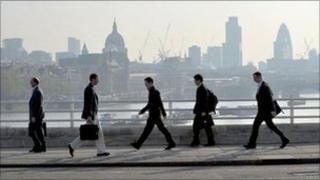 The UK's financial services sector cut jobs in the third quarter of the year as activity levels fell, the CBI business organisation has said.
The fall in activity is the first for more than two years.
The survey, which is produced with the consultants PricewaterhouseCoopers, found 49% of financial services firms saw business volumes fall.
A separate survey indicated that manufacturing output shrank during September.
The CIPS/Markit Purchasing Managers' Index (PMI) for the manufacturing sector fell to 48.4 in September from an upwardly revised 49.6 in August.
A reading below 50 indicates falling activity.
Shrinking
The UK's economy has contracted for three quarters in a row, although recently there have been signs that suggest the country is returning to economic growth.
Matthew Fell, the CBI's director for competitive markets, said conditions were tricky for financial services firms, with just 30% of firms saying business volumes had risen in the past three months.
The findings mark a sharp turnaround from the CBI's previous report at the end of June.
That one recorded the ninth positive quarterly report, with companies reporting overall levels of business above normal for the first time since June 2007.
"The financial services sector has faced a tough quarter, with sales volumes unexpectedly falling and average costs rising, thus denting profits," he said.
"Sentiment about the business situation also continued to fall."
Costs
In contrast, manufacturing has been suffering for a longer period than financial services, according to the CIPS/Markit survey, with manufacturers having cut production for three months in a row.
Markit said that costs rose at the fastest pace in six months, with firms having to pay more for chemicals, energy, food, oil and metals.
Weak demand meant companies were unable to pass on these costs and the index for prices charged fell to its lowest in eight months.
Many businesses are reluctant to carry out investment given that the rest of the world, particularly the eurozone, is also struggling with recession or low growth.
Both the CBI and Markit said uncertainty over demand and the eurozone crisis were encouraging firms to scale back investment and cut jobs.