PayPal technical issues over security checks 'solved'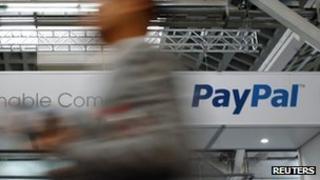 Payments business PayPal says that "technical issues" in the UK that led to a string of transactions being sent for security checks have been solved.
A glitch surfaced when a new system was introduced aiming to speed up the movement of money from PayPal accounts.
PayPal said that transfers of funds into users' bank accounts should now take place within six hours.
The service is mainly used by traders on auction site eBay to make and receive secure payments during sales.
Overload
Before the new system was brought in, it took three working days for customers' funds to be be transferred from their PayPal account to their regular bank account.
The changes meant that this should occur within a few hours.
But an "overloaded" system meant a far larger proportion of transfers were held for security checks than was normally the case last week.
A PayPal spokesman said the issue had been solved although, like other payment providers, PayPal still had a regulatory obligation to make a certain number of security checks.
"Some withdrawals will still need to be reviewed for risk, security or regulatory reasons, and may take longer as a result, but these will be a very small proportion," he said.
The business, which is owned by eBay, had 113.2 million active accounts at the end of the second quarter of the year, up 13% from a year ago.