US students face worst debt and job prospects ever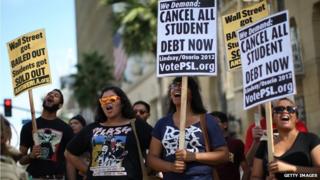 America's students have never been in so much debt. Their chances of paying it off are getting harder as they struggle to find work.
Mac Robertson is packing away his law books. They weigh a ton and have intimidating words on them like 'tort'. He's just passed his bar exam and there's clearly something rather cathartic about shutting them away in a box.
But it also means that it's time Mac turned his attention to another weighty subject. His debt. Mac owes $170,000 (£105,500) in student loans.
He studied at Rutgers University law school. It's by no means the most expensive course in the country, yet they charge $50,000 (£31,000) a year. Only now is he coming to terms with the scale of it.
"The whole gravity of it really didn't really sink in until a few months ago.
"I thought, wait a minute that's not just a number that's actually representative of something - so the joke's always been 'Oh well I bought a house' - but really? It's a little bit more than that!'
If only he had bought a house. Unable to find a job, Mac's leaving New Jersey and moving to Texas to live with his parents.
He's not thrilled about it: "I'm 27 years old, and even though it's common for people my age it's still not culturally normative."
Trillion dollar problem
Mac's story is not unusual.
Americans owe $1tn in student loans and recent graduates are struggling to find work - last year more than half were unemployed or underemployed.
At nearby Temple University in Philadelphia, several of the students are wearing T-shirts or sweatshirts with "Temple" written on it - they're clearly proud to be here. But they are also worried that they could end up being worse off than their parents.
Alphonse Jireh Wilford is one such student.
When the 19-year-old started college a year ago he wanted to be an actor but by the time he finishes his degree he's likely to be $50,000 in debt so he's giving up on that dream. Instead he's thinking about what he calls a more 'serious' profession like teaching.
He's starting to worry that he won't be able to achieve the same standard of living as his parents.
"I worry about that almost every single day," says Alphonse.
"I'm fearful that basically I might not be able to get a job so I might have to be in debt all my life, just paying back loans. It's really something that bogs down my educational experience."
Paying it back
Graduates aren't just fretting about getting a job - it's getting one with a wage high enough to pay off their debts.
Many are settling for salaries normally paid to people who never even made it to college.
"For a kid who comes out and gets a job in the high school labour market with a college degree, they're going to get paid 10 or 11 bucks an hour," says Drexel University economist Prof Paul Harrington.
"Not only does the debt become onerous for them, but the longer they work in that non-college market job, the greater the risk that they won't be able to transition into the college labour market. So it's a tough spot to be in."
On campus the mood here is different from four years ago. Back then those Andy Warhol-like posters of Barack Obama were plastered all over the college walls - this year the decoration is rather more minimalist.
One student is trying organise a meeting, shouting "Young Americans for Obama". Some students stop at her table set up on the main thoroughfare but it's not exactly a rush.
"A lot of Americans thought that hope and change was going to be very quick, and I think that was kind of an unfair expectation." says 19-year-old Danny Provine.
"They thought, hey, the job market is going to improve in a month or a year, two years, but that's just not the way it works today in the world. It's not something that can be done very quickly."
It's this idea of lowering expectations that Mac Robertson says his generation is going to have to get used to.
"We still have it in our mind that we are going to be better off than our parents were, that's so much part of the national narrative and everything, but we may have to redefine what it means to be better off."
For now Mac is taking comfort from the fact that he never, ever, has to look at those law books again.